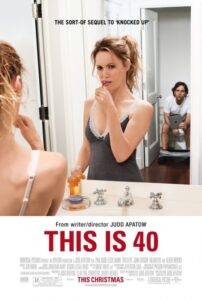 What a step backward! "This is 40" is one of the worst films of the year. It's bad on so many levels. This tone deaf fantasy probably won't single handedly end the once promising career of Judd Apatow, but he will need to do something truly special to redeem himself moving forward.
Recently, I read that Quentin Tarantino said that "Death Proof" was his worst film. He went onto to say he'd quit before making another one like that Grindhouse entry. It is good to hear a filmmaker admit his short-comings. Given the attention paid to Apatow by the media (especially The Hollywood Reporter with a cover story and photo shoot devoted to him), I hope that at some point he comes clean about "This is 40." After all, this is a story about a 40ish couple who live in a spacious home, drive expensive cars, and when it appears that the family record business is going under and they are going to lose it all, they decide to have a lavish weekend away at an expensive resort or hotel of some sort. What?!?
The movie centers on Paul Rudd and Leslie Mann playing Pete and Debbie, their characters from Apatow's 2007 hit "Knocked Up." Pete has left his big record label job and started his own company idealistically signing old rocker Graham Parker and releasing his new album. Debbie has opened a clothing boutique employing Megan Fox and Charlyne Yi. The store appears to be successful but Debbie suspects that someone (think Fox) is stealing money. Meanwhile, the new Graham Parker record isn't selling and Pete is constantly being soaked for money by his loser father, Larry (Albert Brooks back playing Albert Brooks without any impact).
Both Pete and Debbie are approaching their 40th birthdays and Debbie is desperately trying to turn back the clock. In addition to lying about her age, she goes out on the town and tries her hand at picking up younger guys. But in sweet Apatow fashion, Debbie ain't going to actually cheat on her beloved hubby. Such a thing would be way too heavy for this ridiculous fantasy. And after all, everyone has to have a heart of gold underneath that shallow-label conscious-product placement gloss. For example, Apple may have had a share in the film's profit because their products are all over this movie.
To be fair, "This is 40" is funny for about the first half hour. The Apatow humor that is now waning works until the action moves onto suburban angst. For it seems like an eternity, Pete and Debbie argue with one another while saying very little of substance to each other. Having been married twice and now the ripe old age of 42, watching a couple bitch at one another for maybe an hour doesn't make for entertaining viewing. After all, most of us can get this kind of thing in the comfort of our homes. And it isn't fun there either.
The biggest failing of "This is 40" may be that it succumbs to the Apatow method, which relies on what appears to be improv by its likable cast. One dreadful scene has the normally adorable Charlyne Yi making some kind of annoying guttural sound after having a conversation with Debbie about the store thefts. I immediately sat up in my seat and said "what the hell?" If that's in the script, I'd be amazed. But like most everything in this film, they seem to be making it up as they go along. And this uninspired film eventually grinds to a halt.
An utter failure, "This is 40" exposes the inherent weaknesses to the Apatow approach to filmmaking. Even funny people can make an unfunny comedy.
Please follow and like us: