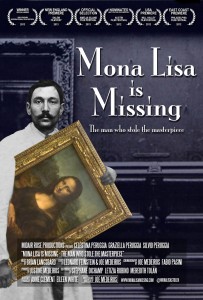 There is a point in "The Missing Piece" when filmmaker Joe Medeiros dares to turn his camera on his wife. It's the early morning, rubbing the sleep from her eyes, she stumbles into their home office. Joe's excited that sometime in the night he received a number of scanned documents from France about his documentary. She says she just can't take it, after all, she's standing there in her bed clothes and she's competing with the Mono Lisa. She cradles her head in her hands.
But Joe's infatuation is less with the other woman and more concerned with another man's obsession with that woman. It was an unhealthy fixation that led to the theft of the Mona Lisa from the Louvre in 1911. That infamous crime has been on Joe's mind for 30 years. He tried writing about it, even over the years making personal diary entries about it, and now he's put his thoughts into a documentary feature called "The Missing Piece: The Truth About the Man Who Stole the Mona Lisa." And Joe's odd obsession might become ours.
The story goes that in 1911 an Italian glass worker named Vincenzo Peruggia stole the famous painting by Leonardo da Vinci and kept it in hiding for something like 2 years. The crime confounded the Parisian police and created a bit of a media circus throughout Europe. Eventually, Peruggia was caught in Italy with the painting remarkably undamaged. Many in Italy considered him a hero for bringing the painting "home." But as Medeiros points out, the Mona Lisa was legally in Paris to begin with, unlike other works of art that may have come to the Louvre under questionable circumstances. Medeiros, a long-time writer for "The Tonight Show," knows that just a factual accounting of a historical theft does not a good documentary make. Medeiros wants to know why Peruggia committed the theft. Was it for spite? Was it for money? Or was Peruggia motivated by patriotism? Watching Medeiros grapple with these questions is fascinating entertainment.
Medeiros proves to be a real hands-on filmmaker–cameraman, editor, narrator, and serving as one of the film's central characters. Key to Medeiros' exploration is Peruggia's family. We meet Peruggia's 84 year old daughter, who is just adorable giving unfettered access to family photos and remembrances. Peruggia's grandchildren get into the film as well, which gives the movie a personal feel. At times, it becomes a bit of home movie, which isn't a bad thing. Medeiros makes us a part of the adventure as the camera's POV is as though we are a member of the crew. And at the heart of the film is Peruggia's daughter, who can't talk about her father without welling up. Medeiros has to walk a tightrope as he gets into the edgy details of the father she holds in high regard. These encounters are both touching and humorous.
The larger issues explored here concerning why people commit crimes helps give "The Missing Piece" weight. And filmmaker Joe Medeiros manages to credibly suggest answers to questions that one would think could never be answered. It is a mystery worth watching even in your pajamas. And Joe's wife has nothing to worry about.
NOTE: This documentary is the kind of film that other independent filmmakers will really love. Joe's DIY approach is on full display. I will try to get information on his equipment and what he used to edit it and create the animations, which it appears he did himself. For more information, visit the film's website: http://monalisadocumentary.blogspot.com/