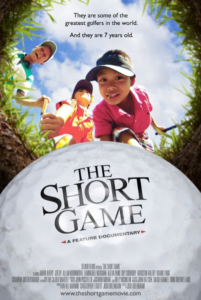 More of a love letter to the game of golf as a metaphor for maturation and life and less a examination of the effect of intense passion on the players, "The Short Game" is a documentary that will be pleasing to just about everyone regardless whether they have any interest in golf.
It is not surprising that "The Short Game" won the best documentary feature audience award at the 2013 SXSW Film Festival. Given the utter cuteness of its subjects, this film would charm the pants off of even the most discriminating of viewers. My 12-year-old wanted to watch it when he saw the trailer. And I think it will work for viewers both young and old.
"The Short Game" follows a number of golfers, some as young as seven years old, from various places around the world as they train and eventually compete in an international tournament held at Pinehurst Golf Course in North Carolina to determine the next world champion. These little competitors are passionate and completely dedicated to achieving their goals. Some cynical viewers will immediately recognize that one of the commonalities among the children is that their parents seem to have the resources, think money, to indulge their children in pursuing excellence in a sport. And regardless how good these children become and how dedicated they are to the game, only a select few of them will go on to make this their profession. It is these edgy and possibly controversial questions that are not explored in "The Short Game."
As an avid golfer myself, I have keenly watched as Hollywood has struggled to make the perfect golf movie and to capture what is it that makes the game so addictive. Without focusing on the deeper issues involved with growing up and finding your way in the world, filmmaker Josh Greenbaum smartly turns his cameras to the details of the game itself while profiling his pint-sized subjects. The result is an irresistible combination of golf and cuteness. And the case of the cute's that often permeates the film is enough to amiably keep the momentum going over its running time. There is little heavy lifting here but a whole lot of fun to be had.
I researched how Greenbaum was able to pull off this documentary which involves interviews from all over the world. To achieve a somewhat blended color and visual scope, Greenbaum employed the Canon C300 camera throughout. You can tell where some of his DP's had a better handle than others on the use of this relatively new tool, which amounts to a digital SLR (with a unique sensor) exclusively for shooting video on a cinema level. By the time the action turns to the competition itself at Pinehurst, Greenbaum employed some nine C300s with nine separate DPs and nine separate camera operators. His achievement in pulling all this together is very impressive. And when the credits roll, some of the most entertaining footage appears as outtakes that will hook young viewers and charm older ones.