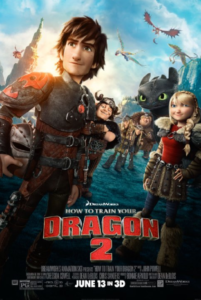 Dreamworks sure knows HOW to make a sequel: just add more dragons! And in "How to Train Your Dragon 2" there are hundreds of them, all different colors, shapes, sizes, with defined personalities and real tangible weight. One of the delights of this fantastic follow-up to the 2010 animated hit are the scaly pets that Hiccup and the riders of Berk count as their best friends. "How to Train Your Dragon 2" is a winner from start to finish.
Five years have passed since Hiccup (voiced by Jay Baruchel) first tamed his stealthy dragon named Toothless. And abroad the high-flying beast, Hiccup explores faraway lands in search of more dragons to befriend. Meanwhile, back in his village of Berk, Hiccup's father, Stoick (voiced by Gerard Butler) prepares to hand over the leadership to Hiccup, who may not be ready for the responsibility. Berk has become a place where dragons and Vikings live in harmony. And it is impossible not to see the relationship between human and dragon as one akin to that of man and dog. The dragons are now helpful pets, and the Vikings have built an industry around caring for and sharing their homes with the creatures. But not all dragons are alike and out there in one of the lands explored by Hiccup a great danger threatens. This means that Hiccup must use his powers of reason and logic to try to save his village and himself in the process.
Surprisingly impactful family viewing, "Dragon 2" is enchanting as it tells a coming of age story while dazzling us with some of the finest 3D animation I've ever seen. There are stunning shots in the clouds as Hiccup glides aboard his elegant flying reptile. It should remind one of the films of Hayao Miyazaki (Oscar winner for "Spirited Away"), whose lyrical work in movies has allegedly ended after last year's amazing "The Wind Rises." It might be blasphemy to compare computer generated animation to that of the fine hand drawn variety, but the work by the artists on "Dragon 2" is really impressive and deserving of recognition (too early for Oscar shortlist?).
Still, without a good story, all the pretty pictures in the world wouldn't be enough to make the film worth seeing. The screenplay is from director Dean BeBlois with novelist Cressida Cowell, whose books provide the source material. And despite the franchise being arguably cheapened and watered down by the intervening television series, the narrative here seems fresh and pumped full of sincere emotion. I was moved by Hiccup's plight. His decisions were not frustrating or contrived, rather, he is a fully developed character that viewers can relate to and care about. The tragic events unfold in a meaningful way largely devoid of the typical sequel trappings that only palely repeat the formula of its predecessor. No, "Dragon 2" is a completely new story taking the characters is new directions that leave open the possibility of future adventures.
And any future adventures of Hiccup and his trusty steed Toothless would have to include more dragons–big ones, little bitty ones, green ones, blue ones, black ones, sloppy ones, and ones that make you laugh and some that even make you cry too.
Please follow and like us: