EDITOR NOTE: This review first appeared in print and online at the Times Herald.
Eric has very little in his life.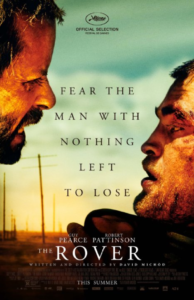 In the 10 years since a global economic collapse, he seems to have given up. But when some outlaws steal his car and possessions, he is determined to get them back, no matter what it takes.
After a short and unsuccessful pursuit, Eric happens upon Rey, who had been left for dead by the thieves who stole Eric's wheels.
By using Rey, Eric hopes to find the thieves and retrieve his car. It is a trek from darkness into darkness. The largely plotless "The Rover" will divide audiences. A grim and violent post-apocalyptic yarn, it gives viewers little to care about and absolutely nothing and no one to like. Writer/director David Michod ("Animal Kingdom") works from a story by actor/producer Joel Edgerton, and the intent appears to provoke and irritate rather than to amuse, inform and entertain. The dark pall hanging over the one-dimensional story is decidedly macho and will immediately remind folks of a film from the late Sam Peckinpah (something akin to his "Bring Me the Head of Alfredo Garcia"). But the problem is that ultimately "The Rover" adds up to very little.
Still, the central performances are excellent if not capable of being too finely cut given the meandering, dare I say "roving," narrative. Guy Pearce plays Eric, a man who says little and has but one mission. He's coupled with Robert Pattinson, who by taking the role of Rey shows us how committed he is to shedding the pretty-boy image bestowed on him by the success of the "Twilight" series. As Rey, Pattinson gets ugly, well, as ugly as a pretty-boy can. His hair is tightly cropped and his teeth are black and decaying. You can almost smell the body odor as the sweaty and worn Rey and Eric are at constant odds with one another while they nurse their wounds and limp across the Australian outback.
But while the actors have opportunities to emote, look rough, and suffer, their motivations are kept so intentionally mysterious that it proves to be uninteresting. What little story there is progresses at a plodding pace grinding toward an ultimately bloody conclusion. Little surprises take place along the way. Do not expect any epiphanies or profound moments. There is a real missed opportunity here as Pearce has in the past made such good use of the rugged Australian landscape (namely in the nearly perfect Western "The Proposition").
I just expected that the journey that Rey and Eric take in the film would end up somewhere, but sadly, it just doesn't amount to a hill of beans. The pity is that the dangerous environment is enough alone to put the viewer on edge and the world weary performances are more than just grody pantomimes. But deciphering the meaning of it all is heavy lifting.
Director Michod showed us with the crime film "Animal Kingdom" that he can tell an engrossing story filled with visceral imagery. And by building on that reputation he is able to attract top-tier talent. But with "The Rover" he should have given us a little more context that made better use of his eager and capable cast. For example, Scoot McNairy ("12 Years a Slave") is really wasted. Few actors working today are able to play smarmy better than McNairy, whom I had the pleasure of interviewing at the Tribeca Film Festival years ago. I shook my head as the film ended, thinking, like others watching, "Is that it?" Yes, that's all there was. "The Rover" is a character piece that relies on grit and grime but little else to hold it together.