Note: These reviews first appeared in the Times-Herald.
HAPPY VALLEY (Netflix Series)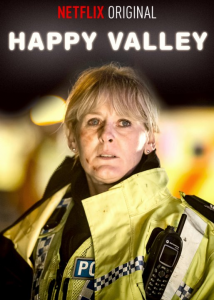 Catherine Cawood (Sarah Lancashire) has had her belly full of tragedy. Following the suicide of her daughter, she has taken on the obligation to raise her daughter's son, who was the product of a rape. This resulted in the end of her marriage and her estrangement from her eldest son. Living with her sister, Claire ("Downton Abbey's" Siobhan Finneran), who herself is dealing with drug addiction, Catherine must also protect the residents of her Yorkshire community as a police sergeant. And things are just about to get interesting.
"Happy Valley" is a new Netflix original miniseries. Having first aired in the UK, Netflix is now distributing it in both Canada and the US. Dealing with issues of addiction and domestic violence, it is a show that avoids cliché while still maintaining interest over its six episode run.
Ironically, I am reviewing this series for the newspaper this week because the screening for "No Good Deed" was canceled at the last minute. The studio's reasoning was that they were concerned that the surprise ending would be compromised by early screenings. That movie stars Brit Idris Elba and is directed by one of his "Luther" collaborators, Sam Miller. While "Happy Valley" will not likely thrill viewers who were riveted by "Luther," my thought is that the "Downton Abbey" crowd would do well to check this one out.
And in "Valley," actress Lancashire, a regular of UK television, proves she can carry a series playing Cawood as a no-nonsense, tough but damaged woman around 50 years old. What will jump out to American viewers is that the police don't carry guns in the UK. In one critical scene, Cawood takes on a kidnapper with a baton and some mace. It is a really riveting sequence that drew complaints in the UK for the level of violence displayed.
But this series is not about action and thrills. In fact, it takes time to build to any kind of excitement. Viewers should be patient and allow the characters to develop and endear themselves. And I would be surprised if many viewers did not identify in some way with the layered family dynamic that marks sergeant Cawood's domestic life. The story does revolve mainly around a kidnapping, but one wonders whether future seasons would need the big action narrative to be successful. I think I would watch the show even if sergeant Cawood was busting speeders on the roadway.
Whether this series continues with other adventures of sergeant Cawood is uncertain, however, the gritty and sometimes mundane nature of the narrative actually sets it apart from other hyperactive series that so permeate the airwaves. How many of us gave up after watching a few episodes of the first season of "Hannibal" because it was just too gruesome? In a way, the smallness of the entire affair with "Valley" makes it unique and charming. And the unglamorous, realistic portrayal by Lancashire, who cuts a fine but mature figure in police garb, is something we don't see very often here in the States. I was reminded of Allison Tolman, who plays officer Molly Solverson in FX's "Fargo."
Comparing "Happy Valley" to the hugely successful "Fargo," however, is a night and day difference. Both series contain violence, and both series are richly rewarding in their own way. But where "Fargo" entertained me and provoked my intellectual curiosity, "Happy Valley" made me feel something genuine for the characters, which is really a rare thing.
Blue Ruin (narrative feature motion picture – Netflix)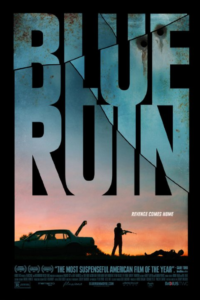 This little film grew out of a Kickstarter campaign that helped raise a little more than $35K of its minuscule budget. But the success of the film is precisely because it is so small. The story follows Dwight (Macon Blair), a man who lives by the beach in his rusting Pontiac. His shabby beard is long, and he seems to be lost. But when he is informed that the man who killed his parents is being released from prison, Dwight embarks on a journey of revenge. But he gets more than he bargained for in the bloody process that unfolds like some kind of modern parable.
Crudely violent and telling of our present gun culture, "Blue Ruin" is a shocking bit of provocation. Written, directed, and shot by Jeremy Saulnier, who maxed out his credit cards and mortgaged his house to finish the film, his gamble paid off handsomely. Blair is excellent in the lead, where he appears in nearly every scene. The expression on his face and especially his bulging eyes reveal a haunting sadness that is affecting from the moment we meet him. Saulnier's cinematography is expert, and he gets the most out of an HD camera (the Canon C300), showing us that 4K resolution isn't necessary to make beautiful movies. Of note in the credits is Atlanta filmmaker Alex Orr ("Blood Car"), who assisted Saulnier as the first assistant director on the production.
"Blue Ruin" is streaming now on Netflix.
Please follow and like us: