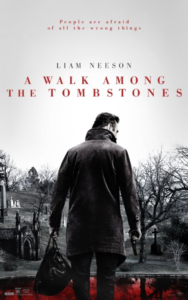 You can take the man out of "Taken," but can take the "Taken" out of the man. There will be a time when Liam "I'm-going-to-punch-you-in-the-face" Neeson will be be remembered for something other than his ability to intimidate kidnappers on the telephone. But this weekend isn't that time.
The telephone factors into the resolution of "A Walk Among the Tombstones." In a critical scene, Neeson, playing former police detective Matt Scudder, takes the phone from a Russian drug dealer and, just like that, goes from a dour, thoughtful, alcoholic, unlicensed gumshoe to an expert hostage negotiator. And it's done so boldly that when Neeson's Scudder turns the tables on the sicko lowlifes on the other end of the line, it might be impossible not to chuckle even though you saw it coming back in "Taken 2" or when he went "Non-Stop" earlier this year. No one working in action pictures today can harass bad guys on the phone better than Neeson–it's practically award worthy all by itself. And think about how much money he could make by recording robo calls for collection agencies—"pay what is owed or I'll hunt you down and serve you with a lawsuit."
But "Tombstones" isn't derivative rehash like the "Taken" sequel, it aims to be more and it gives the gifted actor Neeson a juicy role providing him with a bit of range beyond beating, kicking, shouting, and shooting people. Although as Scudder, there's plenty beating, kicking, shouting, and shooting to go around. Action fans can rest easy with the knowledge that "Tombstones" isn't some kind of existential drama. This is also one of its weaknesses.
Directed by Scott Frank based on a novel by Lawrence Block, "Tombstones" features a textured cast to match the gritty visuals. Block's Scudder character has been brought to the screen before—back in 1986 in Hal Ashby's "8 Million Ways to Die." In that film, Scudder was played by Jeff Bridges. This time the character is handled by another thoughtful director who seems right at home dealing with dark stories involving dark people. In addition to writing the screenplays for some terrific films like Steven Soderbergh's "Out of Sight," Frank wrote and directed the underrated "The Lookout" back in 2007. Like "The Lookout," "Tombstones" is a bit of neo-noir that takes an inside peek at temptation and resistance to it.
In "Tombstones," two serial killers are on the loose hunting down the wives of drug traffickers and holding them for ransom. Scudder, a former police detective, is engaged by a shadowy drug kingpin to find the men and "bring them to him." Scudder asks the man rhetorically, "so you can kill them?" Initially declining the job, Scudder is drawn into the investigation when he is struck by the hideous depravity of the killers. By preying on drug traffickers, the killers know that their crimes may go unchecked. And this makes the killers ever more brazen as they give into their evil urges. Is this a chance for Scudder to find redemption for the sins of his past?
What appears to be headed toward an "Unforgiven" climax gets a more cliched treatment as Scudder goes from attending regular AA meetings to organizing a man hunt for the bad guys. The problem is that to fight the evil doers, Scudder must join forces with other evil doers. Guess a serial killer is worse than a drug trafficker. But what is left on the table is the concept of consequences—drug trafficking can be profitable but it will ultimately damage the ones you love. In addition to the serial killer story, there is a subplot involving a drug trafficker played by Dan Stevens (of "Downton Abbey") and his drug addict brother. And Scudder's struggle with the bottle is a recurring theme.
But unlike the best examples of the noir genre, "Tombstones" doesn't deliver a more complete appreciation for the ethical struggle that Scudder engages in while making his decisions. Focusing on resisting temptation is often what makes detective noir yarns work. Think about Fred MacMurray's character's flawed decisions in "Double Indemnity" or the conflicts present in any adaption of a Raymond Chandler novel. The detectives are good people somewhere deep inside and ultimately make a decision to their detriment. Understanding these concepts, the "Tombstones" script has fun referencing famous fictional detectives. One of the best examples of the genre that is available on Netflix and Amazon is Robert Altman's "The Long Goodbye" in which Philip Marlowe is played by well by Elliott Gould.
Director Frank, who also writes the screenplay, does try to make us appreciate the ethical dilemma Scudder is fighting. The camera follows Scudder as he walks from place to place and ponders and interviews witnesses. These sequences are some of the most engaging parts of the film. But in the end there's that telephone and Neeson doing what has brought him action movie stardom by threatening the bad guys better than anyone. While its not "The Big Sleep," it is a walk down the neo-noir path that will not likely disappoint Neeson's fanbase.
Please follow and like us: