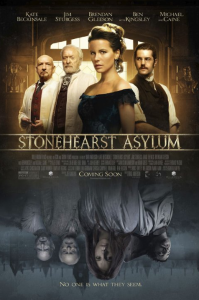 An attempted old school creeper with an A-List cast, Brad Anderson's "Stonehearst Asylum" is an entertaining cross between "American Horror Story" and "Downton Abbey." Set in Victorian England, this gothic tale has newly minted doctor Edward Newgate (Jim Sturgess) taking up residency in the title asylum where he becomes smitten with Eliza Graves (Kate Beckinsale). Soon Edward learns that the head doctor, Silas Lamb (Ben Kingsley), isn't all he's cracked up to be. Sure, I'm being intentionally cheeky—Kingsley's secret is revealed in fairly short order.
When Edward meets Dr. Salt (Michael Caine) locked in a basement dungeon, he sets out to free the prisoners that have been suffering under Silas' sadistic rule. No doubt that the PG-13 rating limits the edge necessary to properly tell the gruesome "Stonehearst" tale, but, as is, the film proves to be more interesting that truly chilling. Beckinsale is the marquee name, despite the presence of Caine, Kingsley, David Thewlis, and Brendan Gleeson. Adapted from a short story by Edgar Allan Poe, it is surprising that the production was able to assemble such an impressive cast. While the visuals are sufficiently unnerving and the performances right for the material, "Stonehearst Asylum" just isn't the film it could have been. And one wonders whether director Brad Anderson, who frightened us with "Session 9" and fascinated us with "The Machinist" was just cashing a paycheck here. Nonetheless, his direction is tight even if the material is a little lacking in identity.
Not a horror movie per se, but still containing horror elements, "Stonehearst Asylum" is a well-made, well-acted tale that could find an audience among viewers looking for a spooky story that doesn't deliver a pile of dead teenagers. Perhaps, this was the point, your mom needs a horror film as much as anyone and this might be just what the doctor ordered.
Please follow and like us: