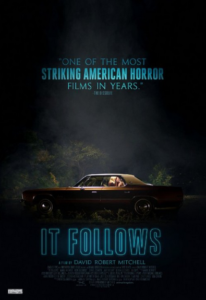 If this weekend's other teen focused release "A Girl Like Her" is the perfect anti-bullying film for today's times, "It Follows" is a perfect throwback horror flick that will play well to teens looking to be creeped out in a meaningful way.
When 19-year-old Jay (Maika Monroe soon to be seen in "The Fifth Wave") has a seemingly innocuous fling with a mysterious good-looking boy, she finds herself plagued with nightmarish visions. Something is following her and only she can see it. The boy tearfully tells her that she must pass it on to someone else like he passed it along to her. This isn't something that a dose of penicillin will take care of.
Jay turns to her friends who initially don't believe her. But when odd things start happening, the proof is undeniable–something is out to get her, and it follows her around slowly and steadily. And the thing that follows her randomly takes the form of a person either a former or future victim. After trying and failing to rid her of the mysterious beast, her friends band together to fight it off, and no one is safe.
Looking like a film from the late 1970s, particularly the John Carpenter classic "Halloween," "It Follows" may bring back a style of horror filmmaking that slowly warms until positively boiling. The deliberate but fascinating narrative unfolds carefully, taking its time to introduce the following dilemma and explore solutions.
Filmmaker David Robert Mitchell ("The Myth of the American Sleepover") makes maximum use of the eerie atmosphere of its Detroit setting, which seems timeless. "It Follows" takes place in a sleepy middle class neighborhood and features kids just old enough to operate outside their parents' control. The characters wear hipster fashion, drive classic cars, watch television on old tube style sets, and one character appears to be using a clamshell wireless device. The intention, according to an interview I read with director Mitchell, is to place the film "outside of time." This production design certainly works in making an already creepy story even creepier.
And the cinematography is particularly interesting. Shot by cinematographer Mike Gioulakis, who lensed the entertaining Don Coscarelli comic horror entry "John Dies at the End," the choices are just plain cool. Gioulakis works with the narrative using the camera to follow and capture those following Jay and the others. Several shots have the camera doing a complete 360 with some movement and subtle zooming. Like everything in the film, these methods make it unique and arresting.
After burning up the film festival circuit, "It Follows" is playing in limited release around town.
Please follow and like us: