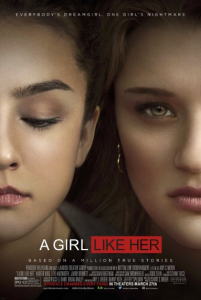 Life is tough for 16-year-old Jessica Burns (played by Lexi Ainsworth), especially when she draws the ire of high school siren Avery Keller (Hunter King).
After being bullied by Avery, she turns to filmmaker-in-training and best friend Brian Slater (Jimmy Bennett) to document the abuse. But Jessica discovers that being a part of her own personal reality television show takes its toll.
Using a clever modern visual scope, that employs the use of hidden cameras, documentary style techniques, and the DSLR video look, writer/director Amy S. Weber, manages to paint a very intimate picture of high school life in this social media age. After a period of adjustment, viewers will quickly accept the first-person point of view camera work, which is thankfully stabilized and mostly avoids the "Blair Witch" trappings that leave people nauseous. And instead of being a gimmick, this storytelling approach is wholly appropriate–teens today film everything and even share their deepest secrets with the world in Kik groups or on Instagram. How many followers does your kid have online?
No doubt to be compared to movies like director Marisa Silver's 1988 film "Permanent Record," "A Girl Like Her" is a fitting cautionary tale. Some scenes reminded me of the 1990 picture "Pump Up the Volume" where the parents are depicted as both out of control, while others are understanding and in touch. And by adopting the visual scope which today's teens are accustomed, "A Girl Like Her" should connect with the key viewer demographic without coming off as too preachy.
The overall effect makes the actors seem more authentic, with images captured in a video "you are there look" as opposed to standard cinematic methods. The film ultimately comes off as a hybrid combining seamlessly documentary, narrative and reality television styles. What could have been a cheesy disaster proves to be emotionally potent, especially as family lives and motivations are explored.
Playing in limited release in theaters across the country, "A Girl Like Her" is more than an after school special. It is impactful–and I don't want to give anything away–as we learn about the bullied and the bully, both are victims.
Please follow and like us: