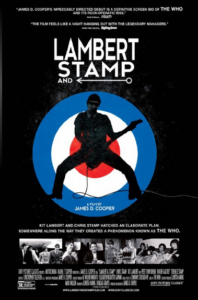 "Lambert & Stamp" is an expertly crafted documentary that is essential viewing for any fan of the rock band The Who. Focusing closely on The Who's longtime managers Chris Stamp and Kit Lambert, the film combines a dizzying amount of archive footage with the band's iconic hit songs. And the story is little bit profane and touching as we learn about the two men that were the early significant driving forces behind one of biggest rock groups in history.
Kit Lambert, now deceased, was a very interesting figure in England in the 1960s. His father was a famous classic compose. Kit was raised with the best education and proper upbringing. His seemingly polar opposite, Chris Stamp, came from the other side of the tracks—a rough and tumble sort. Both men shared a love of the cinema, and, to that end, they originally set out to make a movie about a rock band. This eventually led to their management of a band originally called The High Numbers, which later became The Who. Helpful in their efforts was Stamp's brother, Terence, an actor who, at the time, was already having great success in British cinema.
The fascinating part of this origin story is that one of history's best known bands found success not at the hands of a music producer but in the custody of two filmmakers. Or, at least, at that time, wannabe filmmakers. It should come as no surprise that one of The Who's most well-known accomplishments was the rock opera film "Tommy" in 1975.
Cooper gets most everything right here. While his approach might be criticized as a little too polite, he is able to shine some light on the troubles that eventually caused the parties to part ways. Given that two of the groups original members, drummer Keith Moon and bass guitarist John Entwistle, have passed away, there are some questions that may go unanswered here. But Cooper smartly limits his focus to Lambert and Stamp, and this is largely their story. Still, many may consider "Lambert & Stamp" the definitive The Who documentary.
Visually rich with terrific use of music, James D. Cooper has given rock fans an intimate look into the men behind the legend.
Please follow and like us: