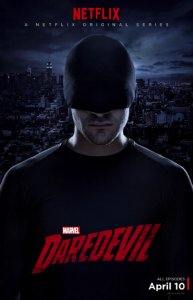 The week before "Avengers: Age of Ultron" opens in hopes of topping the $1.5 billion in worldwide box office of its 2012 predecessor, Netflix subscribers can see a humbler hero on the small screen.
The comic book genre gets deathly serious and a so-called PG-15 rating with "Daredevil," the first of five comic adaptations coming to the home streaming service. The gritty, more realistic approach sets the stage for the next four Netflix comic book series–"Luke Cage," "Jessica Jones," "Iron Fist" and "The Defenders."
"Daredevil" follows Matt Murdock (played by Charlie Cox), a blind lawyer, who masquerades as a street-level Marvel hero in New York City's Hell's Kitchen. The series opens with a moving origin story–Murdock as a boy is involved in an accident on the street and some sort of chemical renders him blind. But other powers begin to develop. In time, his hearing will become so acute that he can "see" better than most. And because he was raised by a single parent father, who was a hardened boxer, Murdock's fighting skills are imposing.
The series is a slow burn. While there is action involving fast-paced hand-to-hand combat as Murdock dons a mask and begins his crime-fighting career, the narrative plays out like some sort of legal drama. Murdock and his law partner Foggy Nelson (Elden Henson) decide to open a practice right out of law school. Their clientele is scant, but when they get a chance to represent Karen Page ("True Blood's" Deborah Ann Woll) the organized crime world begins to take notice. Meanwhile, Murdock's nocturnal activities take their toll on him physically, and he turns to the medically trained Claire Temple (Rosario Dawson), who becomes his cut man.
Setting up the "Daredevil" world takes time but viewers who stick with the show will be rewarded. Time is taken to develop the personality of the characters. For example, episode four spends much of its time introducing us to the mysterious Wilson Fisk (Vincent D'Onofrio), who is one of the most disturbing Marvel villains to date. And because the level of violence on this Netflix series is said to exceed the usual PG-13 rating reserved for most comic book fare, Fisk is permitted to completely lose control and the results are ultra-violent.
Cox, of HBO's "Boardwalk Empire," is a good choice for the title role. The character is blind, but given the superhuman powers he develops, his "blind" act does not have to be entirely convincing. Murdock spends much of his time on screen leaping from rooftops and engaged in martial arts style combat, so, after the first two episodes, the fact that the character is blind is hardly noticeable, although it does make for some amusing banter.
The key to the success of "Daredevil" has to be D'Onofrio's affected performance as Fisk, aka The Kingpin. He's downright terrifying, and yet, he's able to somewhat tenderly romance an art gallery owner while not hiding his positively unsettling personality problems. And when he lets loose, you have to look away, because he becomes a one-man meat grinder.
"Daredevil" smartly keeps the action grounded. Murdock and Foggy are budding defense lawyers trying to help out their home town folk. And every show offers an opportunity for the duo to take on new clients, against the backdrop of a larger organized crime threat. The fact that one of Murdock's powers permits him to hear a person's heartbeat comes in handy when trying to get to the truth.
The Marvel Comics Universe (sometimes referred to as "MCU") has evolved with this new take on a character that was poorly adapted in a 2003 feature motion picture starring ironically the new Batman, Ben Affleck. The good news is that few will likely remember that film as this series begins a new chapter. And because the action is set within the existing and popular MCU, there are opportunities for "Daredevil" to appear alongside other heroes in films and series on the horizon. But unlike heroes that fly and destroy entire cities in their concerted efforts to save the world, "Daredevil" is content saving his neighborhood, one street at a time.
Please follow and like us: