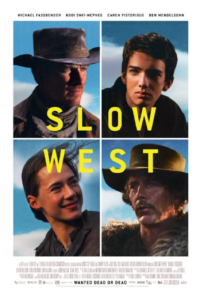 "Slow West" is different and wonderfully so. Few Westerns are made these days. I remember years ago when I spoke with Dennis Quaid at an event for his film "The Rookie," I asked him about "The Long Riders" and whether he'd consider doing more Westerns. He said something to the effect that no one makes them anymore, they just don't sell.
This is one reason why "Slow West" is so unique. It's the kind of revisionist Western that reached its peak in the 1970s with films like "Little Big Man," "Bad Company," "McCabe & Mrs. Miller," and many others. In the last few years, save for art house attempts like "Meek's Cutoff" and the ultimate low budget throwback "The Scarlet Worm," the modern Western just isn't being made. And "Slow West," a timeless almost perfect example of the modern Western, is the kind of film I'd like to see more frequently.
The story is about 16-year-old Jay Cavendish (Kodi Smit-Phee) who is traveling across the 19th Century American frontier in an effort to find his true love Rose Ross (Caren Pistorius). Along the way, Jay comes to employ gun-fighter Silas Selleck (Michael Fassbender) as his guide and protector. The two strike an uneven friendship as they navigate their way to the same destination each for much different purposes.
At one point, they cross a dangerous bounty hunter named Payne (Ben Mendelsohn). Their first encounter with Payne is the kind of trippy sequence that marked the best of the 1970s revisionist Westerns. And the modern touches are subtly abound in "Slow West" with scenes involving immigrants and allusions to slavery and Native Americans lightly sprinkled into the story. Things unfold with a casual calm that merely masks the simmering potential violence that is likely to explode at any one moment.
Writer/director John Maclean really understands what makes the modern Western work, and even pays homage to many of the genre's classics. One scene is unmistakably Leone as a gunman sets up outside a farmhouse in a beautiful field. The writing is sharp with sparse dialogue, mysterious flashbacks, and a strong female presence. He is working within the Western but telling a story that exists today. It is refreshing.
The cinematography from DP Robbie Ryan ("Fish Tank") is especially impressive particularly since the film was, according to IMDB, shot on the Canon 1DC. Because my wife and I shoot on so many different cameras, seeing a film that looks this good with this level of cast on a camera that is essentially a large DSLR is exciting. The image is really clean, but does not ever seem electronic or alien, rather there is an organic quality to it. But since the image is so clean, the modern tone of the film is enhanced. This is all part of the construction digital film look rather than the cinema film emulation approach that I often pursue. It is a risky visual scope, but it works very well in "Slow West."
"Slow West" is the modern Western that we have been sorely lacking.
Please follow and like us: