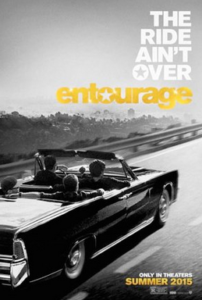 Televisual these days ain't what it used to be. And this weekend's big screen adaptation of the once-popular HBO series "Entourage" proves that what might work on the small screen over time, seems cheap and even desperate in a darkened theater.
"Entourage," if you can remember it, ended its run on HBO back in 2011 after eight seasons. Immediately, there was talk of a movie, but the show's creator had trouble getting it off the ground. Meanwhile, the once young and promising cast failed to capitalize on the show's success. Jeremy Piven, the elder statesman of the group, has had the most success namely headlining the very good PBS/British series "Mr. Selfridge." Star Adrian Grenier has appeared in some movies and television and even directed a critically-lauded documentary feature, 2010's "Teenage Paparazzo."
But on the whole, "Entourage," an artificial look at life in the cheesy fast lane of Hollywood, did not effectively make A-listers of its cast. And if you think about it, having a show that puts you in contact with actual A-listers over eight seasons should have yielded an actual movie star. And this is one of the reasons why the "Entourage" movie is really a theatrical failure. All the money, cars, clothes, nice houses and dynamic babes can't make up for lack of charisma. There is a reason why there are so few Leonardo DiCaprios working in the business. It isn't about flash, it's about substance. And "Entourage" is an absurd male fantasy that is about a deep as a thimble.
The story picks up where the show left off. Movie star Vinnie Chase (Grenier) has just ended his marriage (one of the shortest in Hollywood history) and decides to throw an obnoxious party on a yacht. His entourage–Turtle (Jerry Ferrara), brother Johnny Drama (Kevin Dillon), and manager Eric (Kevin Connolly)–join him for the party during which they get a call from Vinnie's fast-talking retired agent Ari (Piven). When Ari tells Vinnie that he's back in the game this time as a studio head, Vinnie insists that the next film he stars in, he will also direct. Ari begrudgingly gives Vinnie control over a $100 million production.
"Entourage" newbies beware, much of the story trades heavily on the goodwill and foundation established by the series. An attempt to introduce and reintroduce us to the world of Vinnie, Ari and the gang is made through interviews with Piers Morgan clearly set in an alternative universe where he's still a reporter of note. These amusing interviews are fun, but because we know that Morgan's CNN show has long since been cancelled, it rings a little hollow. And the interviews themselves are not particularly convincing. Like much of this film, the action takes place in what seems to be a time and place similar to ours but tweaked to the extreme. And the wilder and more out of control things get, the more unbelievable the story becomes.
The saving grace is Piven, whose energy as Ari is infectious. He chews up everything, but what's around him often is a let down. His interaction with a rich Texas financier (played by Billy Bob Thornton) and his pint-sized son (played excellently by Haley Joel Osment) is especially effective. Sadly, the movie spends too much time with the other characters and their ridiculous, unengaging problems. And what could have been "The Player" just feels like a lurid parody as a cavalcade of industry insiders (both from in front of and behind the camera) make appearances, winking at the audience, and even limping off screen. It is just about too much to take.
Ultimately, there is really no reason to see "Entourage," the movie, in the theater. What should have happened is a limited series run similar to what Fox is doing with "The X-Files" and other shows from the past. So, expect "Entourage" to make a speedy transition to your streaming television set-top device in the coming months.
Please follow and like us: