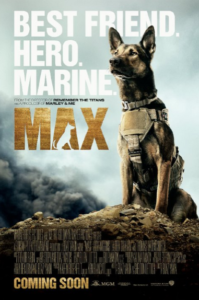 Dogs have been serving our men and women in combat since World War I. And their contribution has been significant. Too bad "Max" didn't focus more on the story of a dog and his handler in combat.
A movie that would be perfectly at home on your television set, "Max" proves to be fine PG-rated family viewing but not a must-see theatrical outing. The story starts in Afghanistan where Marine dog handler Kyle Wincott (Robbie Amell) and his trusty dog Max (played wonderfully by canine actor Carlos) sniff out hidden weapons caches. Meanwhile, back home, Kyle's younger brother Justin (Josh Wiggins) treats his brother's dangerous job with a smirk and a bit of sarcasm. Justin just doesn't take anything seriously. His dad, Ray (Thomas Haden Church), lost his leg in the first Iraq war in the early 1990s and carries with him some nagging regret. His mother, Pamela (Lauren Graham), keeps a stiff upper lip and lives for Skype calls from her boy in the field of battle. One day, the Wincotts get a visit from the military and their world changes forever. It's the worst visit a family could probably get – Kyle has been killed in battle.
In the film's most stirring sequence, the Wincotts meet Max, Kyle's four-legged best friend who has been traumatized by the loss. When they learn that the dog will likely be put down, the Wincotts decide to adopt Max, who is really a part of their family given the attachment the dog had to Kyle. What follows is a bit of familiar intrigue and sentiment that would be an above-average television show pilot, which is where this heart-warming adventure likely belongs.
The closing credits give us some facts about military dogs followed by a series of photos of dogs in the battlefield. It caused me and my 11-year-old daughter to research the subject afterwards, and while the Hollywood, Lassie-style treatment is given to "Max," a better story of a dog in battle needs to be told. One truth that is covered in the film, but only with a thin gloss, is the aspect of dogs experiencing post-traumatic-stress. This is real, and the film pulls at your heart-strings during a scene involving a Fourth of July celebration.
Actors Thomas Haden Church and Lauren Graham are always very watchable. Graham's accent, meant to be from Texas, is a bit distracting, and Church just uses his own, which is the right choice. Both are completely convincing as husband and wife, but the film does not give their grieving process enough time. It is very plot driven, when it could spend a little more time developing characters. The worst of it goes to Josh Wiggins, who plays the young hero Justin. His dismissive sarcasm is meant to play as a defense mechanism that a teen might erect to fend off real emotion. Instead, it feels false and forced. Maybe permitting Justin to feel more warmth for his brother in the battlefield would have made us like him more, especially as the character grows and changes.
Justin's pals add much needed comic relief. Chuy (Dejon LaQuake) and Carmen (Mia Xitiali) serve as Justin's sidekicks as the Hardy Boys-style mystery concerning drug cartels and gun sales unfolds. Chuy has some of the funniest lines that are self-aware and sharp. The teen love story between Carmen and Justin could really expand should "Max" be developed as a television series. Younger teens will like the bike riding escapades of the characters, but adults and older teens will probably roll their eyes.
While it is unlikely that "Max" will get a series order from a major network or streaming platform, the world constructed would be worth revisiting on the smaller screen. And in that world, it would be great to learn more about our four-legged military heroes.
Please follow and like us: