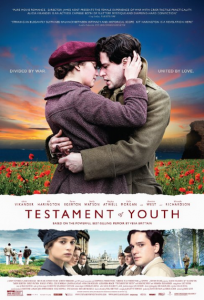 The thing about "Testament of Youth" is that it is so very familiar. It is a handsome adaptation of the best-selling English autobiography by Vera Brittain. And as good as it is, it isn't anything more than what one would expect from a BBC television offering. We've seen this sort of thing before.
Vera ("Ex Machina's" Alicia Vikander) is a young woman in World War I Brittain. She's head-strong and has her heart set on attending Oxford. Her father (Dominic West) buys her a piano while claiming that Oxford is too expensive and really just a waste of money for a girl. But when she is visited by Roland ("Game of Thrones'" Kit Harington) something stirs within her, and he's okay with Oxford. Of course, the war intervenes and Vera's life will change forever.
With an excellent cast and top tier cinematography, "Testament of Youth" should have connected with me more. My English wife really loved it, which means that either she was filled with a nationalist pride or the film plays better for female viewers. Frankly, it is probably a little of both, and the female protagonist helps endear the movie with its key demographic. Still, "Testament of Youth" is certainly no "Atonement," a film that utilized a more complex narrative structure and moved me especially with its closing sequence.
Vikander is solid in the lead. And she's everywhere these days. I've yet to catch her in "Ex Machina," a movie that has critics already calling it one of this year's best. Harington is positively unrecognizable as the love interest. Fans of "Game of Thrones" will have to look close at this clean shaven Harington, who arguably looks more comfortable adorned in the crow wardrobe guarding the great wall. Here he's fine, but the film does not give him much to chew on.
There is nothing wrong with "Testament of Youth." But it isn't the memorable period epic that it could have been. And with best-selling material at its source that might be a small crime.
Please follow and like us: