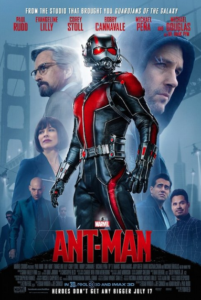 Marvel gets small, really small, and that's a good thing.
"Ant-Man" seemed like an odd choice for a big budget superhero movie. The title, integral to the Marvel comics universe, isn't the most well-known property. And the problems with the production hinted that the studio might not be confident in their choice. Edgar Wright ("Shaun of the Dead") was originally slated to direct from a script he had written. Fan-boys the world over warmed to this idea. Wright's cult film sensibilities generated all kinds of goofy goodwill. He was the auteur, after all, who satisfied hard-core graphic novel fans with his 2010 adaptation of "Scott Pilgrim vs. the World." But when Wright suddenly exited the project just as it appeared to be finally going into production, it seemed that all hope of delivering something unique and fresh seemed lost.
While we may never know what motivated Wright to leave his vision of "Ant-Man," the result under the direction of Peyton Reed ("Bring it On") is still very hip and entertaining. Wright still gets a writing credit, so, it is likely that his touches are partly responsible for the film's success. And it sure helps that the cast is comically inclined, with Michael Douglas lifting the literate quality of the material. But the ants steal the show. No doubt the creation of computer generated genius, these little insects make for lovable (yes, even huggable) and heroic characters. By the end of the movie, you may have found new appreciation for the ant, especially the crazy ones.
In "Ant-Man," Dr. Hank Pym (Michael Douglas) discovers a particle that when properly housed can shrink organic matter. When used to shrink a human being, that man or woman retains all the strength and mass he or she had when full-sized. The advantage of this trick is demonstrated in various ways—an ant-sized man that still weighs 200 pounds is a force to be reckoned with.
After leaving the company he founded and refusing to provide access to his research, Dr. Pym (a computer generated Douglas made to look years younger) retires for decades. But when his former protege Darren Cross (Corey Stoll) appears to be getting closer to Pym's discovery, it may be time for Dr. Pym to take action. The world isn't ready for the Pym Particle. But time has taken a toll on the good doctor and he must find a new hero to put on the Ant-Man suit.
Pym's daughter Hope (Evangeline Lilly), who still works in Pym's company, wants to don the suit herself, but Dr. Pym has another guy in mind, cat-burglar Scott Lang (Paul Rudd). Lang has just finished a stint in prison and wants desperately to go straight. His young daughter lives with his ex (Judy Greer) and her police officer boyfriend (Bobby Cannavale), and in order for Lang to see his daughter regularly again, he's got to find a job. And Ant-Man might not be the best source of employment for an ex-con dad looking for a little unsupervised visitation.
"Ant-Man" fits nicely into the Marvel Cinematic Universe with references to the Avengers and even the appearance of one in an amusing scene. Lang isn't the most charismatic hero, but actor Rudd (who has amused viewers for years in film's like "The 40-Year-Old-Virgin") manages to establish a comedic, affable, self-effacing personality that plays extremely well. He even has a sidekick in Luis (Michael Peña) who is one of the movie's most endearing highlights.
But the best thing about "Ant-Man" is that is starts small and stays that way. Unlike the familiar rhythm that has marked almost all the Marvel films to date, the action here is on a slightly more restrained level. Things do blow up, even a building, at one point, but big explosions and action sequences are deemphasized. There's even a scene with a key fight involving a toy train set that is funny and thrilling.
It is hard not to like the direction that Marvel has taken with "Ant-Man." While not as much fun as "Guardians of the Galaxy," it manages to capture the tongue-in-cheek fun that makes some comic books so enjoyable on the page. One wonders if the new incarnation of "Spider-Man" will take a cue. Not all superheroes are angst-filled drips that mope around worried about the world's problems. Sometimes the hero is a regular guy with regular problems who solves them in irregular ways. And for Scott Lang, he has to get small to have a big impact on the world around him.
Please follow and like us: