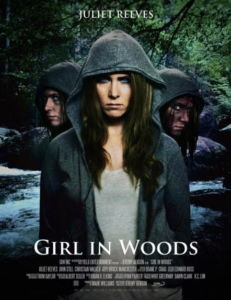 Grace gets lost. But she was lost way before a tragic accident leaves her alone and without a way home in the rural Tennessee mountains. And with little outdoor survival skills, Grace must listen to her inner voice in order to make it. But it's that inner voice that's scarier than anything lurking in the woods.
Writer/director Jeremy Benson is sure to break out of the pack with his arty horror entry "Girl in Woods." Conceived as a minimalist psychological horror-thriller, the film eventually morphed into something far more significant as Benson and his close-nit team shot one version of the film only to retool that version with new cast members to produce the eventual final edit. This is not uncommon in the movie business—original scripts are often tinkered with and changed once shooting begins. What appears to work on the page, sometimes doesn't on screen. Having seen the progress of "Girl in Woods," I can say that from start to finish, Benson's original ideas have translated nicely delivering a film of rich quality and deep emotion. And he gives us several truly frightening moments and the potential for more to come. This "origin story" has franchise written all over it.
"Girl in Woods" starts with Grace (Juliet Reeves London) and her boyfriend Jim (Jeremy London) traveling to the Smoky Mountains for a weekend getaway. Once tucked away in a cabin, the two set out on a long hike into the woods. But when something tragic happens to Jim, Grace is left to fend for herself. Without cell phone coverage, GPS, or any real outdoor skills, Grace gets ever more lost. But this alone time frees something within her that was previously suppressed by medication. There's more to Grace than just Grace.
An intelligent take on the psychological horror sub-genre that deals with split personality and mental illness, Benson's script aims to be more than just an opportunity for a few good jumps and some gruesome gore. Sure, there are scary and bloody moments, but Benson takes his time introducing us to Grace and her sad backstory, which involves troubles as a child with her mother (Charisma Carpenter) and her father (Lee Perkins). The film even takes time for sensitive moments between Grace and her grandfather (played well by the late John Still).
Benson has become known as a horror filmmaker. His "Live Animals" back in 2008 has been seen all over the world. But there was a time when his focus was on drama, with his film "The Smallest Oceans" about a father and a son. He is not your garden-variety horror director, and with "Girl in Woods," he gives us something deeper than the typical low budget horror fare. And that is undeniably a good thing. "Girl is Woods" is a very good film.
Note: My late friend Rusty White, a fine film critic and horror film expert, was involved in the making of "Girl in Woods" prior to his untimely death. He was a steadfast supporter of Jeremy Benson and helped him with many of his productions. Rusty would have been so proud of Jeremy had he seen the final version of the film. "Girl in Woods" shows off the potential Rusty always said Jeremy had as a writer and filmmaker.
Please follow and like us: