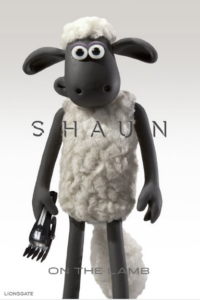 Be forewarned, they speak a lot of sheep in "Shaun the Sheep Movie." In fact, there is no real dialogue at all in the film. And that's a good thing.
"Shaun the Sheep Movie" is a theatrical adaptation of the popular British television series that was the outgrowth of a character from the Aardman Academy Award-winning Wallace and Gromit animated short film "A Close Shave." The series was wonderful family entertainment, and this feature length version builds on that success. It's a beautiful stop-motion film. Shaun really comes alive on the screen.
For those of you unfamiliar with the series, which you really must check out, Shaun lives on a farm with his flock. While things are publicly managed by The Farmer, Shaun and a sheepdog named Bitzer really run things. And when the mischievous Shaun gets the idea that he and his fellow sheep should take a day off, he accidentally sets in motion events that will threaten the future of the farm. In an action-packed sequence, The Farmer finds himself lost in the big city with an acute case of amnesia. And due to his keen sheep-shearing talents, The Farmer takes a job in the big city at a beauty salon cutting hair for the rich and famous. Everyone gets the Shaun cut. Can the flock and Bitzer restore The Farmer's memory and return to the farm? You know the answer to that one, but it sure is fun getting there.
No 3D gimmicks are employed to add depth to "Shaun the Sheep Movie," because the animation techniques that principally involve the use of puppets have plenty tangible qualities. There are featurettes available online showing the process, which has a team working with models of the characters and moving them shot-by-shot through the scenes. The result is seamless with detailed characters combining with intricate backgrounds. It's those fantastic backgrounds that will require multiple viewings to truly appreciate—just reading the billboards and signs is a real treat.
But what about all the sheep speak and lack of dialogue? It works. And unlike "Minions," whose communication contains familiar and well placed words in various languages, the "speech" in "Shaun the Sheep Movie" seemed to be unintelligible except that after a brief period of adjustment seems fairly easy to grasp. The filmmakers show us everything with a number of excellent slap-stick sequences that convey the message as well as one loaded with exposition. In a way, this silent movie approach is magical because actual words never seem to be needed. Little ones watching in the theater were riveted, and older viewers should be charmed.
Like "Paddington," "Shaun the Sheep Movie" is one British import that will surprise and enchant. Plan on taking your little lambs.
Please follow and like us: