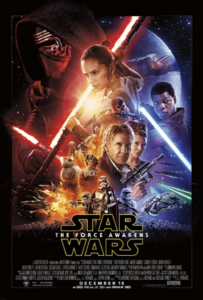 Review Preview: My print review hits the streets on Friday in print, but since the embargo has lifted, I thought I'd offer a few thoughts on the biggest film of the year. Due to a power-outage, I actually saw the movie (almost all of it) twice. And for fans, I suspect, twice will not be enough.
J.J. Abrams strikes back with "The Force Awakens," one of the franchise's warmest, funniest, and most human episodes.
Picking up 30 years after "Return of the Jedi," a new evil in the form of something called The First Order threatens the galaxy. I'm still working on a way to talk about the plot without spoiling it for fans, but it is safe to say that there is a new droid and two new heroes are introduced. And a Darth Vader type called Kylo Ren stalks about making use of the Dark Side for his master's bidding.
"The Force Awakens" makes you forget the prequels. The tone is exactly right with rich pathos and natural humor. Harrison Ford and Peter Mayhew, playing Han Solo and Chewbacca, are flat out terrific delivering one-liners, slap-stick, and heart, which transcends mere nostalgia. Forget about trying to make the universe or the technology logical, this is a true space opera that causes you to remember why you fell in love with the series back in 1977.
More thoughts to come when the paper prints my full review on Friday.
Please follow and like us: