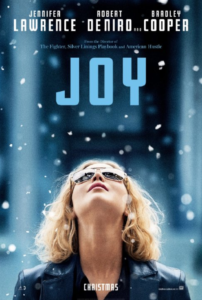 A celebration of the American entrepreneur, "Joy" will delight some viewers and frustrate others.
Writer/Director David O. Russell has been on a roll since 2010. Starting with "The Fighter," Russell's films have made him a perennial awards contender, including five Academy Award nominations. And his best work has been in collaboration with Jennifer Lawrence, who won the best actress Oscar for "Silver Linings Playbook."
"Joy" may garner Lawrence another nomination, but Russell's brand will take a hit as he alienates some fans who have bought into his tilted, improvisational style of filmmaking.
Based on the life of Joy Mangano, the real-life inventor responsible for the self- wringing Miracle Mop, "Joy" incrementally tells a rags to riches story.
The film begins with Joy (Jennifer Lawrence) struggling to raise her children and manage the dysfunctional relationship of her damaged parents. A high school valedictorian, there was a time when Joy showed great promise. But instead of college, Joy got married, started a family, and resigned herself to service jobs while helping out in her father's garage.
Joy has a big heart. Even after she divorces Latin singer Tony (Édgar Ramírez), she continues to support him and lets him live in the basement while he pursues his music goals. One day, Joy has an idea: She could invent a better mop. And that idea will change her life forever.
The kind of story that you just couldn't make up, it is unfortunate that Russell's "Joy" script proves to be an unfocused mixed bag.
The first portion of the film moves so slowly that some viewers' attention may wander while waiting for the story to get to the point. I enjoyed the earthy and eclectic moments which are reminiscent of Russell's handling of the family dynamic in "The Fighter." And, it helps that the cast is so deep.
Robert De Niro is a hoot as Joy's outspoken, but troubled, father. Virginia Madsen plays her equally damaged mother, who wastes away in a room watching soap operas that are clumsily integrated into the film.
These early scenes, even with the addition of the always-watchable Isabella Rossellini, ramble along without much rhyme or reason. It's just plain frustrating.
In an attempt to tie the narrative together, Russell resorts to an odd voiceover narration by Joy's grandmother, played by Diane Ladd. This does not work at all, and the entire grandmother-character seems tacked on. It is as if Joy's grandmother is a spirit that has floated in from another movie. The shame is that Ladd could have been used better in actual scenes rather than the obligatory narrator.
But even with the structural issues and odd narrative choices, "Joy" is darned entertaining in places.
When the mop finally gets into production, Joy travels to the studio of then-fledgling television station QVC. This is when the movie really picks up. We meet station producer and product expert Neil Walker (Bradley Cooper), who gives Joy a chance to sell her invention. Her progress is well captured because it shows how the business of selling goods on TV evolved.
"Joy" is, above all, a Jennifer Lawrence vehicle. It is obvious that she's comfortable working with Russell, whose reputation as difficult is widely known. And Lawrence makes the most of it, appearing in almost every frame and staying very committed to the character, even when the story elements fail her.
At just 25-years-old, it is tough to buy the young adult "Hunger Games" star in the role of divorced mother of two come captain of industry. Still, "Joy" will more than satiate Lawrence fans.
Ironically, "Joy's" production feels very much like something that filmmaker Garry Marshall ("Valentine's Day," "New Year's Eve," and the upcoming "Mother's Day") might have stuck together using his Hollywood connections. Thankfully, it's not quite as cheesy (and, perhaps, fun) as recent Marshall efforts. It is as if the actors only made themselves available for short time periods and Russell made due with what he was able to shoot when he had access to the talent.
The result is that "Joy" feels incomplete and stuck together. Some parts work far better than others, with hints of Russell's previous collaborations with the cast peeking through. But ultimately, the unfocused nature of the narrative undermines the film's effectiveness. This makes "Joy" not as joyful as it could have been.
Please follow and like us: