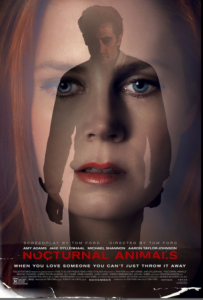 The novel is dedicated to Susan.  But why?
Tom Ford's lush "Nocturnal Animals" is noir and anti-noir.  By employing the story within a story technique, Ford, who, for this film, adapted a novel entitled "Tony and Susan" by Austin Wright, manages to give us social commentary and sophisticated situational drama with grisly crime elements.  The competing stories awkwardly compliment one another with absurdist undertones.
Susan (Amy Adams) is an art gallery owner married to Hutton (Armie Hammer).  The marriage has hit a plateau.  And the money is running out—Hutton has fallen on hard times.  At a dinner party, in which everyone is dressed exquisitely and drinking only the best, while surrounded by some version of the latest trend, Susan discusses her impeding economic doom with a pragmatic detachment.  She pities her husband while contemplating life without it all, without even him.
Into her life drops a package—a proof for a novel titled "Nocturnal Animals." The book is written by her ex-husband Edward (Jake Gyllenhaal), who included an innocuous note that none-the-less sets her mind and maybe he loins a flutter.  Hutton takes off on a business trip and Susan decides to give the tome a read.  For the next day or so, she reads, drinks, bathes in a beautiful bathtub and dreams about what might have been.  What would life have been like had she not cast Edward, the penniless romantic, away?  What might have been without the hard difficult decisions that traded dreams for stability?
The novel becomes that story within a story.  Set along the arid and cracked landscape of steamy rural Texas, it's a noirish crime tale in which we get lurid sexual abuse and murder.  Gyllenhaal pulls double duty playing the novel's protagonist, the weak and tragic Tony Hastings.  After an unspeakable and intensely frustrating crime, Tony turns to an odd investigator named Bobby (a gaunt and affecting Michael Shannon).
This boiling crime narrative is told somewhat conventionally, but there are subtle elements that beg many serious questions.  On its own, this story wouldn't be enough to sustain a feature, however, when juxtapositioned with Susan's more mundane drama, the two complement one another nicely.  A repeat viewing might even enable me to make a deeper comment about what meaning these two stories are trying to collaboratively convey.  There is a lot of un-peel here.
No doubt viewers may conclude that "Nocturnal Animals" feels something like a screenplay written by Tony Letts (see "Killer Joe") but directed with a tinge of misogyny by Brian DePalma.  And that's meant as a compliment.  Sure, the easy comparisons would be with the work of David Lynch, namely his "Lost Highway" or his classic "Mulholland Dr." And if Ford, who last gave us the incredibly fine "A Single Man," inherits Lynch's mantle, we are all better for it.
But I suspect that Ford's trajectory as a writer/director will be to craft his own peculiar voice.  It will sound as good as it looks as the stories he tackles will be as ambitious as the visuals.  "Nocturnal Animals" is nothing less than a sumptuous immersive viewing experience showcasing a design targeted at something deeper than the thin veneer that could be scratched easily but would require more work to properly penetrate.
Please follow and like us: