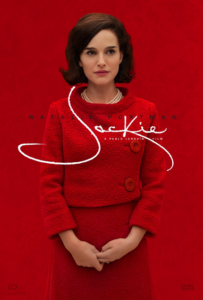 The best films about famous people don't try to tell a whole life's story.  And by focusing on the most well-known event in Jacqueline Kennedy's life, "Jackie" gets the biopic right.
Having already captured the Oscar for 2010's "Black Swan," Natalie Portman has her pick of projects.  And the 35 year-old actress is constantly working, whether acting in difficult material directed by Terrence Malick or by writing, directing, and staring in a film as she did in last year's "A Tale of Love and Darkness."
In the appropriately named "Jackie," Portman takes on sacred material by playing First Lady Jacqueline Kennedy in the time immediately following the assassination of President John F. Kennedy.  Portman's performance is uncanny and utterly award-worthy, as is the film.
The story picks up in the moments that followed the assassination of JFK in Dallas on November 22, 1963.  Starting with the silence piercing gunshot, the script unfolds over a series of glimpses into what happened thereafter not to the President but to the First Lady.  It is as though we are right there with her as she wanders about Air Force One covered in her late husband's blood.  We watch through Jackie's eyes as Johnson accepts the oath of office.  And later, we watch again as Jackie participates in the funeral and is ushered out of the White House.
The end of Camelot through the eyes of its chief architect is intimately chronicled.  And it is through those eyes that a particular attitude is taken. Delicately, the film tries to make us understand its subject, as Jackie can feel the walls closing in around her.  Whether this take on what transpired is accurate, it is hard to question the tone derived from the film's point of view.
Director Pablo Larrain, a Chilean filmmaker being introduced here to US audiences, delivers an essay type meditation on the emotional coaster ride Jackie went through in the days after the national tragedy.  No doubt he's taking cues from "Black Swan" director Darren Aronofsky, who serves as a producer on "Jackie," this intimate and somewhat experimental narrative attempts to dive deep into the First Lady's emotional struggles.
An exercise in capturing personal perspective, the script from Noah Oppenheim is something like a blur between fact and speculation as to what exactly occurred behind the scenes.  Oppenheim, whose previous credits include young adult novel adaptations, gives us a completely mature narrative that solemnly conveys an account likely very close to what, in fact, went down.  We uniquely climb inside the head of Jackie during that particular moment in history. It's a very rare thing when a movie transcends so perfectly making the viewer feel something of what its tormented protagonist experienced.  It's moving. Comparisons to "The Queen" are very fair, with both films appearing to understand their subjects in such a remarkably knowing fashion.
Portman's excellent acting combines well with Larrain's ambitious and purposely disjointed structure and pacing based on Oppenheim's introspective and well-researched script. We are also given an unusual score by Mica Levi.  It will come as no surprise to anyone that Levi gave us all that moody music that helped make 2013's "Under the Skin" so affecting.  Without being too on the nose, Jackie's alienation is anticipated wonderfully by Levi's work.  Although music is often a part of the post-production process, one wonders whether Portman's performance was in some small way influenced by the music choices.
The atmospheric score also dovetails nicely with cinematographer Stéphane Fontaine's inventive camerawork using 16mm film often presenting a beautifully textured image especially in closeups.  While I watched this film from a DVD (on a large but still limited screen), I can imagine that projected theatrically in the 1.66.1 aspect ratio, "Jackie" would look very artful.  Fontaine is having a banner year having also lensed "Captain Fantastic," and Paul Verhoeven's "Elle."
"Jackie" is one film in 2016 worth experiencing.
Please follow and like us: