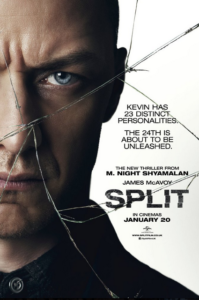 M. Night Shyamalan is the guy who wrote and directed "Unbreakable" but also gave us "The Happening." His talents produced the Oscar nominated "The Sixth Sense" and the critically lambasted "The Last Airbender."  His early successes have been overshadowed by his later failures.
There is no doubt that smaller narratives better fit Shyamalan's eye.  And "Split" is a successful more confined project that fits remarkably well into his quirky canon.
When Casey, Marcia, and Claire are abducted in a shopping mall parking lot, they find themselves the prisoner of an odd sort of fellow—let's call him Kevin.  Kevin (James McAvoy) is not just one person, rather, he's has 23 separate personalities.  And as he cares for his captives, we meet many of these singularly housed, distinct individuals.
Kevin's fight to unify his identity is managed by his treating psychologist, the caring Dr. Karen Fletcher (Betty Buckley).  Dr. Fletcher frequently meets with Kevin, or whatever personality is currently in control, at her apartment.  Her familiar relationship with her patients runs deep, but Kevin is of most interest to her.  Fletcher desperately wants the medical community to buy into her theories that the mind can physically alter the body chemistry.  She believes that Kevin's separate personalities are actually separate people.  And, oh, what the mind can do!
Meanwhile, back at Kevin's lair, which appears to be some sort of underground bunker, his captives fight to survive.  Claire (Haley Lu Richardson) is the popular girl, whose take charge attitude advocates in favor of attacking Kevin and forcing their way out.  She reminds the other girls that's she taken Karate.  The outcast of the group, Casey (Anya Taylor-Joy), on the other hand, is more cerebral and believes that using violence would only hasten their demise.  And the overwhelmed Marcia (Jessica Sula) is understandably paralyzed in fear.
"Split" is equal parts frustrating and unnerving. It is also very funny.  As Shyamalan develops his narrative, he skillfully builds the individual personalities that inhabit Kevin as well as teasing Casey's backstory.  The magic is how tightly Shyamalan maintains tension both relying on star McAvoy, who is terrific, and by working within an often claustrophobic setting.
The artful techniques Shyamalan employs borrow bits from the lens choices (wide angles used closely), the slowly unraveling mystery of both Casey and Kevin, and good old fashion horror elements in which Shyamalan full well knows must be combined with humor in order to be tolerable.  This is a PG-13 rated film that punches well above its rating by introducing mature situations without tipping over into an overly lurid tone.  Like most of his work, his movies often qualify as broad family entertainment—fairy tales with moral messages.  This film might be his edgiest entry and parents with children under age 13 should be cautioned.
This wouldn't be a Shyamalan film unless "Split" was replete with secrets.  And without spoiling it, this time there is a very satisfying link back to his earlier successes.  There is potential for another "Split" helping as Shyamalan expands his fantastical universe.  I'm tiptoeing around certain key elements that provide lovely guilty pleasures.  Fans of his best work will not be disappointed.
If Nicolas Winding Refn has inherited much of Brian De Palma's (with a sprinkling of Michael Mann's) arguably misogynistic cinematic legacy, it is possible that with 2015's "The Visit" and now "Split," Shyamalan seems to be successfully picking up the macabre wizardry of the master Alfred Hitchcock.  One can only hope that he's capable of producing his own "Psycho" before another monster blockbuster failure derails his talent.  Stay small Mr. Shyamalan, stay small….
Please follow and like us: