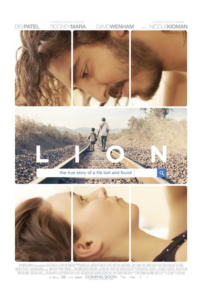 Having received 6 Academy Awards nominations, including for Best Picture, "Lion" is currently expanding its theatrical footprint.
The fine film stars actor Dev Patel, who first burst onto the scene in 2008's multiple Oscar winning "Slumdog Millionaire."  Since that time, we've seen him grow into an impressive screen presence.  Last year, Patel was excellent as the mathematician S. Ramanujan in the small but satisfying "The Man Who Knew Infinity."  It comes as no surprise that he finds himself nominated for Best Supporting Actor this year.
In a way, "Lion" is a better film than even "Slumdog" in that its intimate focus and emotionally engaging story should play deeper and resonate more broadly.  "Slumdog" was an extremely entertaining fantasy, but "Lion" is based on a true story memorialized in a novel by the real Saroo Brierley and Larry Buttrose.
The "Lion" narrative follows Saroo Brierley (Patel) as he makes his way from the poverty ridden streets of India eventually being adopted by an Australian couple (played by Nicole Kidman and David Wenham). As Saroo grows older and technology improves, he discovers through Google Earth that he might find his mother again.  As Saroo's obsession overcomes him, he has no choice but to follow his heart even if where it takes him is a dark and winding path.
"Lion" is the dark horse in the Best Picture race, for sure, but is a worthy story captured in a moving and important manner.
Please follow and like us: