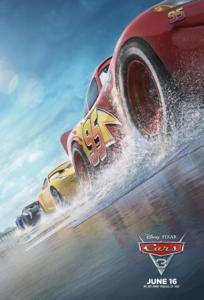 A definite improvement upon 2011's "Cars 2," "Cars 3" is a more grounded racing adventure with enough heart to remind you that it's a Pixar film.
In this go round, Lightning McQueen (voice of Owen Wilson) might be coming to the end of his fabulous racing career.  After hundreds of wins, his style of racing is a thing of the past.  New comer Jackson Storm (voiced by Armie Hammer) has all the technology to win in a consistently boring fashion with every risk calculated and each number counted and relied upon.  And when it looks like Lightning has to call it quits, he decides to go back to basics in hopes of renewing his winning mojo.
In returning to his roots, Lightning decides to visit the home of his late mentor Doc Hudson.  And in flashback, we learn, again, how Doc taught Lightning the racing ropes.  This trip down memory lane might prove that even though Doc is long gone, Lightning still has a lot to learn from his wise teacher.
A lesser Disney-Pixar entry, "Cars 3" is still a visually impressive film.  The animation is really lovely.  There are scenes where Mack (Pixar mainstay voice talent John Ratzenberger) drives through the countryside and the photo-realistic landscapes are pretty amazing.  Why are they amazing?  Because everything was rendered by Pixar artists.
I'm not sure about the Pixar process, but this film will make a good case for a fully animated, yet live action, feature combination that is nearly indistinguishable from the real thing.  And I'm not talking about "Guardians of the Galaxy Vol. 2" weightless and unconvincing animation style. The ultimate trick for Pixar will be blending the animated environment with actors in a way that gives the world weight and does not suck the soul out of the performances.  Needless to say, we're certainly getting there.
The magic of "Cars 3" visually is that the comic car characters seamlessly blend with the photo-realistic elements.  It is not jarring or off-putting but very organic.  There is a scene in the dark in a forest where the cars practice recklessly that is particularly excellent.  And I liked a demolition derby sequence that will also tickle the funny bone of youngsters. The racing sequences on the beach are pretty special, as well.
Also consider that Doc Hudson is played (voiced) by Paul Newman, who passed away back in 2008.  I have not gone back and re-watched the first "Cars" film, but I wonder if they merely used the same voice work from that performance or if they re-tasked previously unused audio.  Either way, it is really special to hear Newman's familiar voice again.  This is a continuing extension of the Pixar movie magic.  Thankfully, we just hear Newman without digitally re-creating the actor in a computer as we saw with questionable results in the last "Star Wars" story "Rogue One."
Ultimately, "Cars 3" proves to be a solid summer family comedy.  While lacking the narrative weight and importance of, say, "Inside Out," "Cars 3" is fun and represents the on-going quality of the talent Pixar has on demand.  Even a light and playful Disney-Pixar film is a cut above many other offerings in the family marketplace.
Along with "Cars 3," Pixar shares a short film called "LOU" prior to the feature.  It is very charming and certainly pulls at your heartstrings consistent with a story we've come to expect from the studio.  It is likely to factor into short animated film awards consideration, along with the expected "Frozen" short film due to accompany Pixar's next feature later this year.
Please follow and like us: