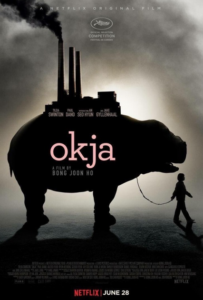 South Korean filmmaker Joon-ho Bong can't seem to make a bad film.  Since 2003 with his "Memories of Murder" and onto his absolutely gut-wrenching drama "Mother" in 2009, serving as both writer and director he constantly challenges us in unique and artful ways.
And Bong's "Okja" is equal parts artful and challenging.  Easily his most accessible film, it's another environmental cautionary tale on par with "The Host" but not as dark and depressing as his epic "Snowpiercer." Without some of the language and a bit of violence, "Okja" might qualify as family entertainment.  But Bong is intent on striking a mature tone, one that keeps his message intact and not watered down.
The story follows a genetically engineered super pig created by the fictitious Mirando corporation and raised by a kind farmer and his loving grand-daughter Mija (Seo-Hyun Ahn).  The hippo-sized beast they name Okja, and she is one special animal.  Mija and Okja share a special bond. But as the contract with Mirando nears its end, Okja may be taken from Mija forever. As Okja is spirited away, Mija pursues them to the city and beyond.  It's an adventure that just might reveal Mirando's true nefarious intentions in the process.
The effects blend well with the live-action as Okja develops a real personality and feels very much alive.  Shades of Dumbo swirl about, for sure. Anyone who's seen "Snowpiercer" won't be surprised that the performances are tweaked to the fantastical max, with Tilda Swinton taking on a dual role as the disturbed Mirando sisters.  Jake Gyllenhaal is hard to recognize as he plays the nerdy and conflicted public face of the corporation.  But Seo-Hyun Ahn comes off as the most authentic character next to Okja.  As Mija, Ahn convinces us that she truly loves the beast, which draws us in and makes us care.
While maybe not as epic as "Snowpiercer," "Okja" is a very solid entry in the Joon-ho Bong canon and indispensable viewing for fans of his fine work.  It's an obvious futuristic satire skewering meat industry as well as genetically engineered food.  This film has a clear agenda, which might make you think twice before frying up that thick marbleized slab of salty bacon.
Please follow and like us: