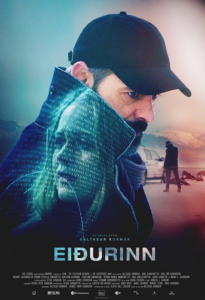 Action director Baltasar Kormákur (See "2 Guns," Everest," and the upcoming "Adrift") takes a partial detour by directing himself in the Icelandic dramatic crime thriller "The Oath."
Incredibly well shot by cinematographer Óttar Guðnason, the story concerns a heart surgeon named Finnur (Kormákur), whose daughter gets mixed up with a drug dealer. After trying to reason with his daughter to leave the dangerous boyfriend, Finnur decides to take the law into his own hands. His messy plan goes predictably wrong, and Finnur might pay the ultimate price.
Kormákur was right to cast himself in the lead. Finnur spends a lot of the film biking some distance between his home in a urban center to a more rural house, owned by his late father. This is where the cinematography shines with sweeping vistas captured beautifully. But given Kormákur's athletic prowess, the biking scenes are very authentic. Frankly, he looks the part, which helps connect him to the audience.
Ultimately, "The Oath" is not really an action movie and goes for subtle emotional conflict over the physical variety. The effort is to ground the movie more in tragedy than thrills. And as the film draws to a close, the director's sincere efforts pay off.
Because Kormákur is such a sure hand, both in front and behind the camera, he manages to make the somber affair consistently interesting, if also not entirely satisfying for typical over caffeinated audiences. But since ones nefarious plans rarely go well, the end result is a realistic and gritty outcome that can't be denied merit.
"The Oath" is playing in limited theatrical release today in Atlanta.
Please follow and like us: