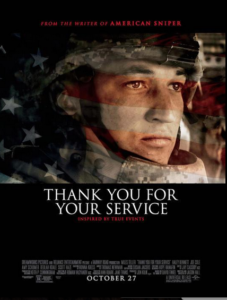 In a television interview, author David Finkel pointed out that the events of "Thank You For Your Service" aren't history, but this is something that is going on now. Of course, he's exactly right, and this is why this film is so important and why it should be widely seen.
When Adam Schumann (Miles Teller) and his fellow soldiers Solo (Beulah Koale) and Will (Joe Cole) return home from a tour in Iraq, they aren't the same kids that went off to war. Their battle scars aren't visible, but those scars run very deep. Haunted by images of the fallen, these young men need support. But back then in 2007, the military wasn't prepared to address their injuries. And today, one wonders if anything has changed.
Particular scenes stand out in this extremely engaging and well-made movie about current events gripping our nation. The most impactful of these scenes don't take place on the field of battle, rather, it's back home where we see just how out of touch our leadership can be.
In one sequence, Adam and Solo wait for a ridiculous period of time in one line after another just to get a form and just to turn it in. And during this progression, an officer notices Adam in line and shames him. "You were my hammer," the officer says, while telling him that he has to be strong to set an example. Later, there is a scene in which Solo meets with another officer, who is more interested in buying steak on the Internet than helping Solo with his needs.
Rarely, does a film capture a moment in time as well as Jason Hall's "Thank You For Your Service." Hall, who wrote the screenplay for "American Sniper," makes his feature film debut as a director here. He clearly has a handle on the material, especially, the tone. This isn't a preachy movie, but allows us to see what our soldiers are going through.
Of course, the performances help sell the authenticity. Led by an excellent Teller, who again reminds us how relatable he can be in an everyman role, everyone is uniformly solid. But what works best is the relationship between the soldiers. In one scene, the war torn threesome go out on the town for a rowdy night of drinking. And as these three party and look at one another, you really buy that they have had terrible experiences together.
That chemistry is carried through to Adam's relationship with his wife Saskia (Haley Bennett). Just watching Adam make pancakes for his family is interesting. There's something very genuine going on between the actors in this film. And given the horrors of war that Adam has experienced, the viewer immediately cares for him, but is on edge as to what he might do next. This anxiety isn't the manipulative kind that a viewer experiences while watching an action film or a thriller. Rather, you don't want Adam to hurt himself or those around him, but you empathize with him in a really significant way.
Still, there are elements I could have done without. A subplot has Solo getting involved with a scary criminal named Dante (Omar J. Dorsey). And while Dorsey makes Dante menacing (this guy is an actor to watch), I thought that the entire storyline smelled of an attempt to insert familiar action elements in an effort to pump up the story. It wasn't enough to derail the film, but frankly, I wanted more waiting in line, more pancakes, and more time when Solo and Adam just talk about how they are feeling.
Hopefully, the message of "Thank You For Your Service" isn't lost when it leaves metroplexes. It's one of the most sincerely made films I've seen this year.
Please follow and like us: