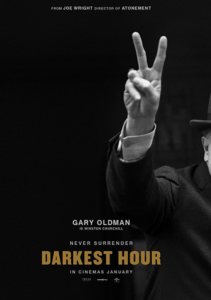 Not to be confused with "Dunkirk," the stunning evacuation narrative that briefly masquerades as a war film, "Darkest Hour" is more about a singular powerful performance rather than telling a cohesive and satisfying story. Playing very much like the pilot of an epic television mini-series, Gary Oldman plays Winston Churchill in the early days of his administration as British Prime Minister.
The story covers the Dunkirk events through the eyes of Churchill as he navigates the political blockades to realizing his conservative vision. We know that that vision was integral to ultimately winning the war, but this film isn't interested in providing us with enough context to fully appreciate the unusual character of the historic leader. "Darkest Hour" is but a snapshot and maybe not the one that acts as the most compelling basis for a feature film.
Everyone in the cast is mighty fine with Lily James playing Churchill's secretary, Kristin Scott Thomas as wife Clemmie, Stephen Dillane as Viscount Halifax, and Ben Mendelsohn inhabiting Kind George VI. Mendelsohn is especially good in the role that previously won Colin Firth the Oscar in "The King's Speech."
No doubt this movie suffers from comparison to other World War II era projects, namely this year's "Dunkirk," but also television series, like "The Crown" that focuses on Churchill later in life. And to add to the televisual nature of the whole affair, "Darkest Hour" ends abruptly, which would have been an excellent cliffhanger for episode two had this been a BBC series. Nevertheless, Oldman is superb in the lead and should find himself competing for the golden statute.
Please follow and like us: