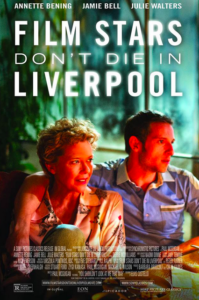 Why didn't we hear more about this film during end of the year awards voting? Annette Bening is certainly worthy here for her raw and impactful performance as Oscar winning actress Gloria Grahame. "Film Stars Don't Die in Liverpool" contains performances bigger than the film itself, but the movie is also a solid take on the waning years of an aging Hollywood film siren.
Taking place during the late 1970s and early 1980s, we meet Brit Peter Turner (Jamie Bell) as he is seduced by American film star Gloria Grahame (Annette Bening). She's just moved into his English apartment building, and even though she's quite a bit older than him, he's immediately taken with her. Part of his fascination stems from his interest in acting. But when he initially meets her, he had no idea who she really is or that she had won the Oscar when she was younger.
"Film Stars Don't Die in Liverpool" is based on a true story. It's adapted from the memoir by the real Peter Turner.
Gloria is a free spirit. Almost immediately, her charisma captures Peter's heart. And before he knows it, he's completely in love with her. And the May-December romance develops over a number of years. At one point, Jamie travels to America and meets who I thought was Gloria's mother Jeanne (Vanessa Redgrave). Jeanne cautions him about Gloria. Apparently, this isn't her first dalliance.
Aside from Bening's winning performance as the troubled film star, who died in 1981 of breast cancer, the film works on a romantic level. Bell, like everyone in the cast, plays his character with a measured level of conviction that flows like a ribbon through the narrative. Julie Walters plays Peter's mother Bella, and instead of a distrustful and protective parent, Bella is written as a person with a loving heart. She welcomes Gloria into her home with open arms. It is the sincerity of the characters that makes them utterly real, but unfortunately, it might make them boring, as well.
Instead of a film where arguments boil over regarding the unconventional love affair, for the most part, everyone around the two star-crossed lovers are understanding and forgiving. And when Gloria begins to really get sick, even Gloria's son is kind to Peter. I found this aspect of the story refreshing. There's little frustrating gnashing of teeth and irrational anger here, just thoughtfulness and love on the screen. And it is heartbreaking in places.
Director Paul McGuigan ("Lucky Number Slevin" and TV's "Sherlock") shows great range here. Venturing out of the genre trappings that were strained terribly in his disappointing 2015 feature "Victor Frankenstein," we get a genuine well-formed drama that also contains many of McGuigan's visual trademarks. The set design features lots of detailed wallpaper that, although more subdued than his other films, is still vibrant and interesting. The texture of the production breathes authenticity right down to the lines captured in Bening's beautiful face. She pretty fearless here, and it should be noticed.
I suppose that "Film Stars Don't Die in Liverpool" suffers from the small, not showy handling of this tiny footnote in Hollywood lore. But the theme here is real and important, live life the way you want, but hard living certainly might catch up with you. Age doesn't define beauty any more than it restrains love.
Please follow and like us: