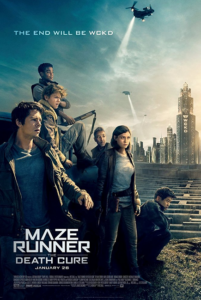 The tension and fresh ideas that made 2014's "The Maze Runner" a nice surprise are completely ignored in the overly familiar and dramatically insincere "The Death Cure." A must for fans of the trilogy, the rest of us, who may barely remember the story elements, will struggle to stay engaged.
Based on the James Dashner best-selling young adult novel, "The Death Cure" follows the continuing adventures of Thomas (Dylan O'Brien), who having survived the glade, the maze, and the scorch trials, now has to contend with the finding something called the death cure. Although it's hinted at, gone is the introspective, intelligent group dynamic that led to escape from the glade through the maze. Those somewhat fresh ideas have been replaced by a rather pedestrian post-apocalyptic story crossed with action sequences ripped directly from the "Fast and the Furious" films.
The movie opens with Thomas and his clan attempting to rescue others like them from a speeding train. Naturally, this means driving a truck up beside the train and then behind it and eventually boarding the locomotive. Although fairly well mounted, these sequences lack any real sense of danger, as not one opposing soldier seems to be able to shoot straight, and the tools required to pull off the job are readily available. Perhaps it's their prior training, but the script merely gives the characters skills when required and pulls these talents back when required. It's all a frustrating yoyo in fantasy land. If you're 12, maybe it works, but older viewers will scoff.
While the rescue is largely successful, Thomas' good friend Minho (Ki Hong Lee) was left behind. Of course, Thomas decides to go back for him. And even though the risks are high, Thomas is joined by Newt (Thomas Brodie-Sangster) and others to do the impossible. The plot will be instantly recognizable. If revenge were involved, you'd have "War for the Planet of the Apes," and if you didn't know what you were watching, you'd swear this was an episode of "The Walking Dead."
Zombies called Cranks are all over making the journey to rescue Minho perilous. But in time that part of the story-line is abandoned for another that involves a walled city run by an authoritarian group of militant incompetents. Haven't we seen something like this in one of the "Resident Evil" entries? But this is where things get laughable. The city is led in part by Ava Paige (Patricia Clarkston) but controlled by a security professional named Janson (Aidan Gillen, Littlefinger from "Game of Thrones").
Ava is like an etherial presence who speaks in platitudes, while Janson growls and reaches for a gun as a solution. Their costuming alone is ridiculous. Ava is immaculate, dress in white outfits with not one hair out of place. Yes, they all live in a walled city in the middle of a wasteland, but somehow, Ava and others have stylish clothing made for them or, at least tailored to their exact specifications.
Janson wears no symbols of authority, like a badge of some sort, and dresses in dark colors wearing a tight-fitting leather jacket. His constant sneer is like Littlefinger as he tries to manipulate the Stark girls. We know he was a fool then, and he's still a minor fool. The whole arrangement lacks credibility. Gillen's familiar mannerisms are so out of place in this film, it proves to be comically distracting. He's an actor who can bring something special to a role, but in this script, he's required to play Littlefinger with a gun. It isn't the least bit menacing.
And Janson's soldiers inconsistently don ridiculous mesh helmets similar to those worn by a fencer. Like a poor-man's stormtrooper, these helmets appear to serve no practical purpose except to obstruct view making aiming a weapon impossible, and they provide the perfect means to surreptitiously infiltrate their ranks. And naturally, this is one way Thomas and the boys get in. Frankly, this level of foolishness should be reserved for a long form series on a lesser television platform. As a feature film, "The Death Cure" is lacking almost everything that makes it theatrically worthy.
And this is a pity given that director Wes Ball has directed each of the three "Maze Runner" episodes. One would think that he'd understand how to pull the story together into a coherent three-part epic narrative. Instead, this film is so far removed from the way things started that even the characters are barely recognizable. The good news is that after "The Death Cure," I can't imagine another "Maze Runner," therefore, Ball's obvious talent can be applied to another fantastic property.
"The Death Cure" ends "The Maze Runner" franchise with a whimper.
Please follow and like us: