Early success stunted Ted Swenson. And although, years later, he has a beautiful and successful wife and an intelligent and interesting daughter, there's something missing.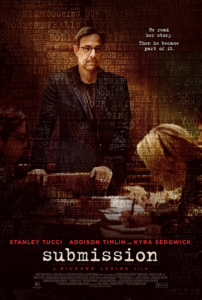 Richard Levine's "Submission" is a film about filling a void. It's a subtle and authentic look at how bad decisions might be necessary, even essential.

Ted is played by Stanley Tucci, an actor who instantly engenders a kind of genuine warmth. He's perfect here as a cynical college professor, whose early novel made him a writer to watch. But as Ted settled into his life with a wonderful wife, child, and solid, but mediocre career, he's become restless.
Enter Angela Argo (Addison Timlin), a precocious, young student with an active imagination. And she can write well. When Angela asks Ted to read a few chapters of her novel, he's instantly smitten. But sexually? Maybe, but not in the carnal way you might think.
Ted is married to Sherrie (Kyra Sedgwick), a doctor, who is immensely supportive of Ted. Whether or not he writes another best-seller doesn't matter, Sherrie clearly loves Ted for who he was and who he turned out to be. But this isn't enough for Ted, and through Angela's writing, something is unlocked.
"Submission" is a tightly shot drama reminiscent in some ways of John Patrick Shanley's "Doubt" or David Mamet's "Oleanna." Although similar, writer/director Levine ("Masters of Sex") adapts Francine Prose's novel "Blue Angel" without Mamet's clipped and staged dialogue or Shanley's set bound mystery.
And while "Doubt" and "Oleanna" are both more intense than "Submission," the theme still resonates. Levine gives us the pedagogical process placing on display a jaundiced teacher and an ambitious student engaged in a complex and tricky educational relationship. Don't laugh, but the actual sex here is really an afterthought.
Ted's attraction to Angela starts with her intellect, and the unfortunate sex thing just gets in the way. But will their flawed decisions result in emotional growth and creative satisfaction? Progress is a destructive and damaging beast. And "Submission" serves up only the first step in a life-long journey that might not end well. But end it inevitably does.
Frustrating but sincere and well acted, especially by Tucci, who embodies a middle-aged man in transition, "Submission" explores well the risk associated with stepping out of one's comfort zone and shaking free from the stranglehold of mediocrity. But it made me reflect on the sad perspective: you're only mediocre if you think you are.
Please follow and like us: