Joaquin Phoenix is a brutish but pensive instrument of death in Lynne Ramsay's violent, but introspective minor masterpiece.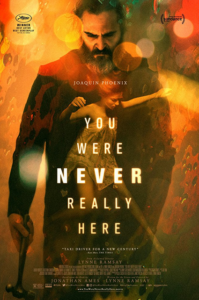 Fantastical and savage, "You Were Never Really Here" has something to say about the lingering effects of post-traumatic stress. Extraordinary filmmaker Ramsay ("We Need to Talk About Kevin") uses the gritty thriller genre to vividly comment on the effects of a lifetime of violence. And in the mercurial Phoenix her adaptation of Jonathan Ames' novel resonates with a brutal beauty as one man's suicidal emotional state is channeled into a righteous force.
Starting with expert, bloody use of a ball peen hammer, we meet the troubled fixer Joe (Phoenix) as he performs his duties. In a workmanlike manner, Joe dispenses a twisted variety of justice for the highest bidder. He spends much of his time on dark and dangerous streets, in seedy hotels, looking ragged and torn—abused and the abuser. At times, we see Joe purchasing seemingly innocuous supplies in a neighborhood hardware store. It is there, under the flickering fluorescents, where we see him finding small joy or comfort in just the right hammer.
Prior to the opening credits, Joe has done something violent—someone's been badly damaged. He doesn't linger at the scene of the crime. After plying his deadly craft, he hastily makes his exit from a squalid location. We follow him down cramped hallways exiting out the back door. Quiet, methodical, and intense, Joe's not someone to mess with.
But there is another side of him. Joe surreptitiously returns to his family home where he takes care of his elderly mother. She is the only thing that keeps him alive, but as time passes, he's getting closer and closer to ending his life.
One day, he's hired by a politician to retrieve the politician's teenish daughter from the clutches of bad men that are sexually exploiting her. The politician tells Joe that he wants Joe to hurt them. Joe's response is stoic, but the message is clear. Hurting people, especially bad people, comes easy to him.
"You Were Never Really Here" is a meditative film singularly concerned with character. Joe's backstory involves a violent father and time spent in the military on the field of battle. His life has been marked by violence, and its left him hobbled, but with a talent for channeling its force. Finding good in bad, finding purpose and meaning, finding himself in the world, Joe's on a journey. And we're taken along with him at a critical point in his development.
Ramsay is a visionary. Pure and simple, she's a major talent that delivers rich textured images featuring complex characters experiencing difficulty that often manifests violently. Ramsay's remarkable "We Need to Talk About Kevin" is a marvel and in "You Were Never Really Here," she goes a bit smaller with a tighter visual scope and grittier narrative. "Here" is easier to digest than "Kevin."
The cinematography is a beautiful, bleak, smeary mess of muted colors from Thomas Townend ("Attack the Block"). The mood is captured perfectly by Townend's camera. He shoots Phoenix in a way that makes maximum use of the actor's weirdness—his odd body and posture featured in a menacing and troubling way. And moments of magical realism are blended visually with startling results.
The music is also a highlight with fine work from Radiohead guitarist and recent Oscar nominee Jonny Greenwood ("Phantom Thread"). Like Paul Thomas Anderson's award-winning film, "Here" is worth watching for the score alone. And it's a testament to Ramsay's stature as an auteur that such talented and interesting people work with her.
Ramsay is such an uncompromising cinematic voice that some viewers may be turned off by her dense and challenging approach. With 2011's "Kevin," she gave us a film that is hard to revisit. That movie was a kaleidoscope of images so raw and coupled with the narrative so intricately structured that I was overwhelmed. In my review, I struggled to capably describe it. Ramsay makes art that defies genre conventions and masterfully inspires discussion thereafter.
"You Were Never Really Here" continues a fine director's discussion about the effect of a violent society.
Please follow and like us: