Tom Cruise doing the impossible.
The improbable sixth "Mission: Impossible" film over a 22 year period hits theaters on July 27.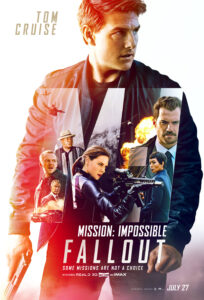 The constant throughout the franchise has been the ageless male Tom Cruise, who inhabits the edgy hero Ethan Hunt, a mysterious spy. After being effectively rebooted, in a way, in 2011 with "Ghost Protocol," the series has been very lucrative for Paramount and Cruise, who has also been a producer from day one.
Based on the trailer below, this time around Hunt and his IMF team take on a threat that could go nuclear. Needless to say, the mission is pretty impossible.
Here's my personal ranking of the previous "MI" films:
Mission: Impossible (1996)
Mission: Impossible – Ghost Protocol (2011)
Mission: Impossible III (2006)
Mission: Impossible – Rogue Nation (2015)
Mission: Impossible II (2000)
Please follow and like us: