Quirky but inconsistent, the Zellner brothers bring their off kilter brand to the Western genre with "Damsel."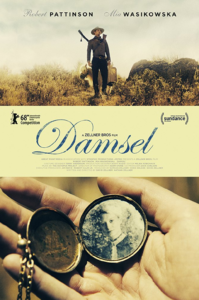 When Samuel Alabaster (Robert Pattinson) arrives in the Wild West around 1870, he's a man on a mission. Awkward and clearly out of his element, it is as though he's traveled back in time. He's in pursuit of the love of his life, Penelope (Mia Wasikowska). In tow, Samuel is accompanied by a miniature horse. Using a guitar, strapped to his back, he's composed a tune to sing when he asks for Penelope's hand in marriage.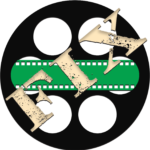 Part of Samuel's plan involves paying a preacher to make the union with Penelope legal. This leads him to Parson Henry (David Zellner), who has taken up the ways of the good book after being given the tools of the trade by a disillusioned old preacher (played excellently by Robert Forster). A drunk, with an only fashionable, passing association with God, Henry goes along with Samuel's plan for the money.
This is the setup for "Damsel," the latest feature from Sundance darling directors David and Nathan Zellner. Their odd narrative approach last gave us the critically lauded "Kumiko, the Treasure Hunter." There is an audience for their decidedly different stories about troubled souls.
By casting Robert Pattinson and Mia Wasikowska, the Zellners' reach should get slightly wider. And for much of "Damsel" they certainly broaden their appeal. The film opens strong, with a very good performance by veteran actor Forster as a preacher, who has lost his taste for the job. And Samuel's arrival in the small, isolated town is entertaining, as he walks the adorable, tiny horse through the dusty streets.
But the story gets more and more inconsistent as it progresses. Whole passages of the film are leaden and repetitive. And as Penelope takes over, proving she's no needy damsel, by waving around a bent rifle, some of the events are tough to accept as credible. But the attempt, I think, is to ground this film in reality instead of folding it into fantastical elements. It's just that the Zellners, who direct from their own script, can't seem to keep the profound portions from being undercut by the almost incomprehensible ones.
Still, there are several lovely sequences at the beginning that, while worthy of a better movie, make "Damsel" worth seeing. One moment that warmed my heart was seeing Pattinson dancing with Wasikowska as wonderful music moves them forward. It's an honest to goodness hoedown! I instantly wanted to learn more about these two young persons. You lean in, but are ultimately given a frustrating resolution to this promising relationship.
It's all part of the uncompromising story-telling commitment of the brothers Zellner. And even though "Damsel" might remind you of something like "Slow West," it isn't nearly as good or as important as that 2015 Western gem. And yet, the Zellners have a feel for this kind of material. They captured the look, the surreal nature of moving out west, and the sadness of one man's quest to win the love of a woman who has yet to find her soul mate. It's a unique film, for sure, and one not without virtue.
Please follow and like us: