"Woman Walks Ahead" is a potentially delicious combination of talents—actress Jessica Chastain, director Susanna White, and writer Steven Knight. And White and Knight choose to go small with varying degrees of success.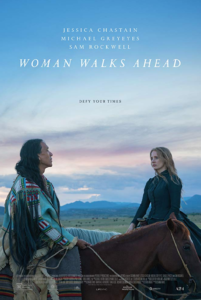 The true story involves portrait artist Caroline Weldon (Chastain), as she travels by train from New York to Dakota in the 1890s to paint Sitting Bull (Michael Greyeyes). At first, she has merely artistic goals in mind, but her naivety quickly melts away, and she becomes involved in the Lakota people's struggle. Weldon thinks that she can use her position to help but comes to understand that the conflict is multi-layered and beyond her.
A real slow burn, performances are uniformly solid if featured in a restrained and tedious package. Some viewers might think this film about a portrait artist and her subject evolves as the paint dries. But there's something important to the angst on display. The story is not nearly as monotonous as this year's release of Stanley Tucci's "Final Portrait," which I also appreciated. By contrast, the action in "Woman Walks Ahead" is enough to sustain viewer attention without glamorizes the historical events.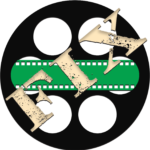 Bill Camp is very good playing a General, whose motivations appear to be fair-minded on the surface but mask a sinister basis. And other supporting performances help the dreary story tremendously, with Ciarán Hinds and Sam Rockwell providing added weight. While Hinds is somewhat underused, Rockwell has several good scenes with Greyeyes demonstrating both the injustice and conflicted history of the time.
The cinematography is pleasing if also somewhat frustrating. Shot in New Mexico, the landscapes are beautiful, but use of slow-motion proves to be distracting. And one key moment is handled off screen further adding to the restrained, some may find too restrained, approach.
Ultimately, we learn more about the events from a series of title cards at the end than from the film itself. However, this is a really bad thing, because White working from a sensitive script from award-winning scribe Knight ("Dirty Pretty Things" and "Locke") is more concerned with the relationship between Sitting Bull and Weldon than giving us a history lesson. And because Greyeyes is perfectly cast as the Indian leader and conflicted warrior, you really want to read every word telling us what happened next.
A sad, significant historical footnote, "Woman Walks Ahead" is a finely etched character piece that does not disrespect the people that the time betrayed.
Please follow and like us: