The pieces fall into place, and Kelly Macdonald shines in "Puzzle."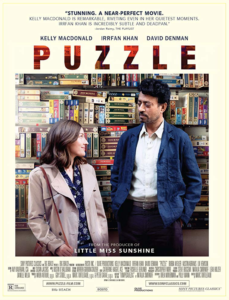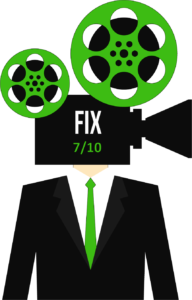 Agnes (Macdonald) is a good wife and mother. She dutifully serves the men in her life—waking them, making breakfast, cleaning house, doing laundry, and then making dinner, day-in-and-day-out. Her routine is so set that she has little time for herself. We know that she's been ignored when she puts the candles on her own cake for her birthday party.
After the party is over and the guests have gone home, Agnes opens her gifts. One of the gifts is the ubiquitous iPhone, a device that she thinks should only be used in emergencies. To her delight, she's been given a 1000 piece puzzle, and right then and there spread out on the dinning room table, Agnes has to put the pieces together.
Her journey in puzzling, I think that is the word, expands when she travels to a puzzle shop. In time, she will meet the reclusive Robert (Irrfan Khan), an inventor who is looking for a professional puzzle partner. It's Robert who first recognizes her talent, but he also sees a bit of himself in her. They are both very lonely people, who need to break out of their shells. Could this puzzling relationship become a romance?
Based on the award-winning Argentinian film "Rompecabezas," screenwriters Polly Mann and Oren Moverman give director Marc Turtletaub all the right elements. What could have become "Rocky," but with puzzles, develops into a domestic drama with puzzling merely as the backdrop. Agnes' journey is only partially related to her interest in putting cardboard pieces together to complete a picture, she's discovering that the life she has isn't the life she needs.
Turtletaub could have leaned more into the world of puzzling. We get touches of it here and there, but the emphasis is on character. Going into this film, I wondered how puzzling would have been visually represented. For example, I remember the fantastical way spelling bee competitions were portrayed on screen in the 2005 film "Bee Season." That approach was largely successful, but had Turtletaub been more whimsical here with puzzling, it might have cheapened Agnes' real journey. Puzzling is just a metaphor.
Kelly Macdonald is wonderfully understated in the role. She plays Agnes, not as a plain Jane push over, but as a kind person, who timidly takes a stand. When Agnes' husband Louie (David Denman) says something like "fishing is the best thing in his life," she instantly seizes on the limits of that statement. She may be a physically small woman, who never went to college, but after raising two boys and helping keep the books for years at Louie's garage, she's ready to find something more important in her life than fishing.
Smartly, the budding romance between Agnes and Robert is restrained. Robert is a rich eccentric, who, ultimately, is just another Louie. He cares about her, but his needs would take precedence. The always terrific Khan, his filmography is massive, plays Robert with just the right mix of arrogance and introspection.
"Puzzle" is a small film with substantial texture, that provides Macdonald and Khan with real characters to inhabit. It's a movie about a woman at personal cross-roads, searching for the pieces to complete a picture of herself that is evolving in her mind's eye.
Please follow and like us: