Destined to suffer from comparisons to the 1973 Steve McQueen/Dustin Hoffman film, "Papillon" 2018 deserves to be considered on its own merits. And setting aside the question why this remake is necessary, it's a good film with solid performances and setting that immerses viewers into a French penal colony in the 1930s and '40s.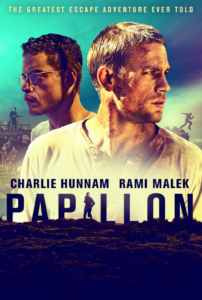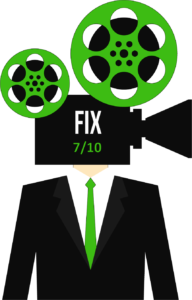 They call him Papillon. Paris-based, small-time safecracker Henri "Papillon" Charrière (Charlie Hunnam) is framed for murder by his fellow mobsters and sent to a penal colony in French Guiana. He knows that proving his innocence is a waste of time. While Papillon didn't commit the murder, he is a criminal, and no one will likely come to his defense. Therefore, he decides to escape from the island prison to gain the freedom unjustly taken from him.
The trip to the prison facility is a dangerous one by sea. Aboard a ship, the criminals focus their attention on some of the vulnerable, high-profile inmates that may be carrying money secreted away in their bodies. One such convict is Louis Dega (Rami Malek), a counterfeiter, who is hopeful that his girlfriend in Paris will mount an effective appeal. In the meantime, Dega has to stay alive long enough for the legal system to run its course. He's a rich kid with a target on his back.
Papillon proposes an agreement: He will keep Dega alive so long as he agrees to finance Papillon's escape. When Papillon proves to be handy in self-defense, Dega agrees to the terms of this relationship. The two men, one physically weaker, but with more resources, and the other a cunning criminal able to take care of himself, form a bond over the years that transcends dollars and cents. And as time ticks by behind bars, Dega's legal options fade and his prospects for release dim.
Escaping the penal colony is perilous. Besides walls, shackles, armed guards and bars, the jungle and the ocean are almost impassible. Papillon is a driven man, who will endure a lifetime of great torment with each and every failed attempt.
Adapted from the Henri Charrière autobiographies Papillon and Banco, screenwriter Aaron Guzikowski ("Prisoners") has a lot of material to draw upon including the previous screenplay written written by the great Dalton Trumbo and Lorenzo Semple, Jr., for the 1973 film. I've not seen that movie in over 20 years, but I remember it as being grueling. Honestly, while I know it is a good picture, I just couldn't bring myself to revisit it for this review. The subject matter just seems too dour and depressing. What mood are you in? How do you want a film to manipulate your emotions? Prison…
Therefore, I went into this 2018 version with the some concerns, dreading the prospect of spending 2 hours and 13 minutes locked in a penal colony. But surprisingly, this movie moves along briskly. Danish director Michael Noer smartly keeps the images alive, even when Papillon is locked away in solitary confinement for extended periods. The prison itself is authentically set, immersing viewers in that place and time. Early scenes on the prison ship are finely detailed—you almost smell the rancid odors that waft throughout the place. And the prison island is a combination of closed off cells and bright jungle environments.
Credit must go to production designer Tom Meyer ("Real Steel") for crafting a prison world that feels very oppressive. There are details everywhere that help the actors melt into their roles. It's an impressively mounted production from top to bottom.
Charlie Hunnam meets the physical requirements of the Papillon role nicely. It would be easy to dismiss his more nuanced acting as it is overshadowed by running, fighting, and yelling. Hunnam plays Papillon as a loyal friend, who looks at the delicate Dega, knowing instinctively that they must work together. Hunnam is an intense actor, who effortlessly moves between physical action and emotional moments with sincerity.
Rami Malek is given less to do in playing Dega. But he calmly fits his performance behind Hunnam's lead. Malek, who became very popular for his television work on "Mr. Robot," is an extremely unique looking actor. His distinctive features alone make him always fascinating to watch, but his layered work here that comes together in the film's closing moments is notable. This bodes well for the big role he will have as Freddie Mercury in "Bohemian Rhapsody" later this year.
Without answering the question as to whether this film is better or worse than the one that came before it, "Papillon" 2018 is exciting, informative, and never boring, featuring solid performances and excellent production values.
Please follow and like us: