Regina Hall is terrific in this comedy/drama from lo-fi master director Andrew Bujalski.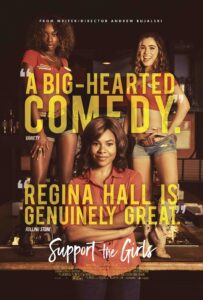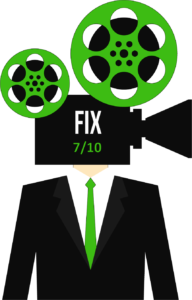 In "Support the Girls" general manager, Lisa Conroy (Regina Hall from "Girls Trip"), is dealing with one very bad day. A firm, but sensitive boss, she treats her team like an extended family. And in the rough and tumble bar and grill business, Lisa has to constantly keep the attractive, young waitresses in line. The business, Double Wammies, is a "sports bar with curves," where the food is delivered by women wearing very revealing clothing. Lisa is quick to point out that the patrons don't come to Wammies for sex or look at naked women, because, she explains, there are plenty of strip clubs for that sort of thing.
Wammies owner, the grumpy Cubby (James Le Gros), would rather go fishing than run the restaurant. He knows that Lisa is a good manager but treats her poorly anyway. Constantly on the edge of quitting or being fired, Lisa must walk the knife's edge, as she also has to deal with problems in her marriage.
Based on writer/director Andrew Bujalski's prior work, it's safe to say that he's a keen student of human nature. His films, like "Funny Ha Ha" and "Mutual Appreciation" are low budget, deliberate stories that breathe dramatic authenticity. The laughs are always there, but they come naturally—nothing is forced or contrived. When given a bigger budget, Bujalski made 2015's "Results," a movie that was not entirely successful, but proved that he was up to the challenge working with established acting talent and broadening his niche appeal. However, I came away convinced that by trying to appeal to a wider audience, the witty "Results" was a movie that seemed to be trying too hard.
With "Support the Girls," Bujalski goes back to his indie roots, but with high profile actress Hall's involvement, his unique mix of comedy and drama should find wider interest without compromising. It's a small film that is utterly charming. And Hall, who appears in almost every frame, is very committed to the role of Lisa, forming the character into a genuine soul.
I especially liked when the Bujalski's camera follows Hall's "den mother" Lisa around the restaurant putting out fires and managing volatile personalities. It's breezy entertainment, especially when the pragmatic Lisa has to make difficult executive decisions. For example, one of Lisa's employees has gotten a huge (and cheesy) tattoo of a sports star on her side, and Lisa has to counsel the youngster about how this piece of pop art will affect her job. It's comical, and just a little bit sad, because these kinds of things happen all the time in real life. Chronicling life's mundane, minor tragedies are Bujalski's stock in trade.
Brimming with verifiable pathos and unprocessed comedic moments, "Support the Girls" is a great return to form for a director, who works best without compromising his indie underpinnings.