With the housing crisis now only a distant memory, director Jonathan Watson gets the setup exactly right, but chose the wrong story to tell.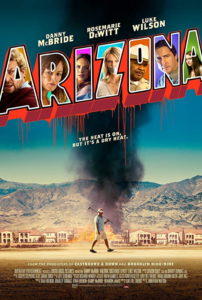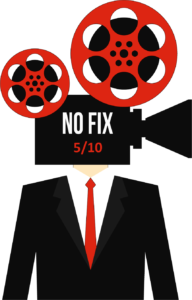 Sadly, after some early observant, satirically biting laughs, "Arizona" devolves into low-rent thriller/horror. And worse, in the lead, Danny McBride delivers an ugly, almost parody version of the hapless loser persona that he perfected with great acclaim for HBO's "Vice Principals." It's a surprising miss for a team that also includes actress Rosemarie DeWitt, who is so much better than this tonally confused material.
The story concerns recent divorcee and real estate agent Cassie (DeWitt), who tried to start anew by moving with her daughter to an up-and-coming suburban Arizona community. Lured to the developing area by a despicable realtor (played in a funny cameo by Seth Rogen), Cassie's goal was to make a good life for herself selling new homes to new money. But in what became a familiar nightmare to many of us, she found herself caught in the foreclosure crisis, and her American dream has become an algae infested pool.
Overnight, the planned urban developments that featured golf courses, salt water pools, and gated subdivisions collapsed. In one telling scene, a gardener is shown painting green the lawn of a pitiful home that is for sale—the hope is that it will freshen up the place. Foreclosure signs dot the blocks with "mc-mansions" boarded up and barren. Cassie's ex-husband, Scott (Luke Wilson) pleads with her to return to the city and give up on the gloomy community. But she's determined to try to keep it together, even as her mortgage company calls continuously to dun her for payment.
It's into this already fearsome, scarred wasteland that writer Luke Del Tredici plants a rude, slapdash thriller, that gets ever more unhinged and bloody, with logic being the first casualty. Caught in the middle is DeWitt, attempting a sincere performance. And to be fair, the setup, that has her scrambling and frustrated, is really promising. The opening sequence, in which DeWitt plies Cassie's trade, caught me, and I expected a layered satire. What we get is a crazed series of escalating bad decisions by McBride's unappealing character Sonny, a man at the end of his rope.
And in that regard, what could have been "Falling Down," goes the extreme other direction, with McBride hamming it up lost somewhere between his Neal Gamby persona from "Vice Principals" and something from the lurid Wings Hauser school, another "Vice," if you will. Only lacking a terrifically on-the-nose character name like "Ramrod," McBride capably becomes insanely like Hauser's killer pimp (the Ramrod I'm referencing) from 1982's "Vice Squad." But the setting is a place and time that deserves biting satire instead of bloody action sequences. It's all completely off.
Instead of wallowing from the get-go in b-movie tropes, writer Del Tredici and director Watson try to make the film about something real early, while tying that subplot down with a pedestrian chase-thriller narrative. But even that could have worked. The miss here may be failure to make maximum use of the set—a decaying subdivision.
There are literally hundreds of empty houses on display in this film. But instead of exploring them as Cassie flees desperately from McBride's ridiculous killer, the script pulls her and her teen daughter Morgan (Lolli Sorenson) into a desert-like golf course. The action is as random as the shots from McBride's psychotic gun-wielding character. It's not particularly interesting visually. And by the time the meandering sequence erratically returns to the burned out subdivision, viewers will have lost interest. The tension is low, mainly because McBride's killer, hampered by a bad back and a decidedly low-IQ, doesn't seem all that frightening.
But I really liked the idea of getting trapped in a walled up largely empty housing development being chased by a gun-totting madman. The other potentially scary fact is that the place is surrounded by desert. A funny sequence has the local sheriff (played briefly by David Alan Grier) showing up and explaining to the incredulous Cassie that because of the economic downturn there's only one official lawman in the area. It's a no escape situation. And Cassie is shackled here, at first, by money and then, literally, duct taped to a chair in a crudely modern home facing foreclosure. This idea is positively intriguing. Think about the possibilities.
Had the movie consisted of a house-to-house, violent pub crawl of sorts, the random nature of the events might have made sense. Each new place could have threatened unique, uncertain dangers. Perhaps budgetary considerations intervened and it was easier to set the action outside. But even though the budget here was modest, the talent involved throughout can't shake the over-arching feeling that they are slumming it.
Consider what would have happened had the film been made on a shoe-string, Corman-style, with a cast of unknowns. I'll bet it would have been more innovative. Frankly, McBride's presence ensured that large stretches of the film consisted of his comedy shtick, only slightly darker. This probably pleased investors, who believed, at least, on paper, that McBride's image on the poster alone would ensure comfortable returns. And further, the pressure was on first time director Watson to let McBride loose. It's a shame. I'm not suggesting that he couldn't carry a picture, but here McBride is terribly one-note—a lunatic with zero redeeming qualities to shape him.
"Arizona" is a film with interesting ideas early and dearth of them later on when it mattered.
Please follow and like us: