An acerbic, dark comedy, director Paul Feig's "A Simple Favor" is snappy fun.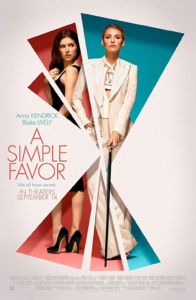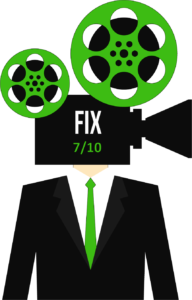 Based on the best-seller of the same name from novelist Darcey Bell, "Favor" has Stephanie Smothers (Anna Kendrick) adjusting to single momhood following a car accident that took the lives both her husband and her half-brother. As part of her mourning, she's become a super-mom, embracing each and every school activity with a freakish enthusiasm. Stephanie has also embarked on a fledgling vlogging career. Everyday, she sets up cameras in her kitchen and talks to the them about suburban doldrums, while imparting wholesome recipes. Her mundane banter with the camera reveals that she might be in need of some therapy. The grieving process is ongoing.
Into Stephanie's otherwise tedious routine walks the exciting long-legged, fashion plate Emily Nelson (Blake Lively). The two very different women have young children at the same school, and play dates are arranged. Emily quickly enchants Stephanie enticing her to visit her ultra modern home for after-school martini sessions. And Emily is quite the mixologist, dosing out potent cocktails, consisting mainly of Ryan Reynolds' awfully tasty Aviation gin.
Before she knows it, Emily's gained Stephanie's every confidence, best friends overnight. And Stephanie slides almost unwittingly into nanny duties for Emily, without even being paid. But when Emily fails to pick her son up one afternoon, Stephanie is forced to keep the child for a couple days. Eventually, Emily's husband Sean (Henry Golding) returns from visiting his sick mother in England, and the police get involved to investigate Emily's disappearance. Naturally, the snoopy Stephanie can't just let the police do their job without her assistance, and she begins her own search.
"A Simple Favor" starts with a knowing bite. Lively plays Emily with saucy energy, which perfectly contrasts with Kendrick's prim and proper Stephanie. There's an early, telling exchange in which Emily compliments Stephanie's cute socks. Stephanie explains that they were on sale at Target. Emily would never be caught dead wearing something from such a big box store. This begins the playful, self-aware, and darkly comedic material that is to follow.
But filmmaker Feig, whose filmography includes mainly light comedies like "Bridesmaids," won't allow the story to go too dark. Therefore, even though there's a measure of shocking violence in this film, it's all rather farcical. And what starts as a snarky "Gone Girl" ends like a rollicking episode of "Desperate Housewives." And it's a whole lot of fun, without being too weighty. The slam-bang conclusion is pure fantasy, but since the tone has completely shifted in that direction by the time we get there, the move into slapstick isn't too much of a jarring tonal adjustment.
Critical to the success of "A Simple Favor" are the three attractive leads. Kendrick, who has the prude role down cold, having played a variety of this character in films like "Up in the Air," has a lot of fun inhabiting a goody-goody Nancy Drew in-training single mother. She's quick with a rational response to most any ridiculous situation, and she possesses all manner of deprecating facial expressions. Lively's voguish Emily is her polar opposite. She gives the delightfully dark character an attitude that could cut diamonds. And Lively confidently rocks trend-setting clothing, like a closely tailored men's suit that breathes power. If you cross Emily, she'll bite your head off.
Managing to hold his own, as the two divas go at each other, is "Crazy Rich Asians" star Henry Golding, as the husband, who may or may be the mastermind behind the possible crime that Stephanie is investigating. Golding makes a very credible leading man, not a muscled up hunk, but an intelligent, sensitive guy, whose unique ethnic makeup and smooth English accent makes him instantly appealing. I've mentioned this in a previous review, but now that Idris Elba is off the James Bond market, Golding might be an interesting choice for the role, capturing a new diverse generation of viewers.
Early on in "Favor," the dialogue is sharp and kinetic, as the characters bounce off one another with a collection of snide jibes. One particular profane phrase repeated frequently in the film promises to eke out into the popular lexicon. I can't say it here, but once you hear the obscene expression, you won't be able to get it out of your head, I assure you.
With "A Simple Favor," Paul Feig makes merry, capitalizing on a talented cast that's game for the jaunty material. It's a darkly comedic party, and we're invited.
Please follow and like us: