A well-made mini thriller, "Ride" benefits from an attractive cast and a brisk running time.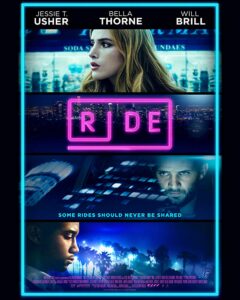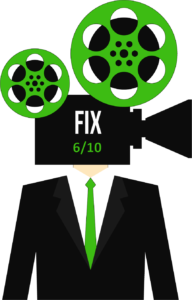 Bathed in neon and featuring a synth inspired score, "Ride" attempts to capture the realtime narrative tension of Michael Mann's "Collateral," with the retro stylings of Nicolas Winding Refn's "Drive." While failing to match either of those significant films, first time feature director Jeremy Ungar delivers a coherent thriller that does not try to push its limited budget to the breaking point. Bella Thorne might get top billing, but Will Brill is the standout, as a deranged stranger, who takes a ride-sharing driver and a passenger on a dangerous late night trip.
When driver James (Jessie T. Usher) picks up Jessica (Thorne), the two attractive young people seem to make a potentially romantic connection. Since James is on the job with a ride-sharing company named Ride, he decides not to take her up on her offer to come in for a drink. But when James' next fare, the sarcastic Bruno (Will Brill), gets wind of the fact that James passed on that opportunity, he convinces James to go back and pick her up. In no time, Jessica has joined the two men on the town for a jaunty drive through Hollywood.
What starts as some innocent fun quickly devolves into a kidnapping, with a gun totting Bruno forcing James and Jessica to carry out his random and deadly bidding. It's up to James and Jessica to work together to disarm their assailant and, hopefully, survive the evening. This is not a film endorsed by the likes of Uber or Lyft.
"Ride" runs a lean 79 minutes including credits. And although some measure of hyped-up action is teased in the film's exciting trailer, the movie is largely a talkfest. But that's not so bad, the threesome are entertaining, and Brill, as the crazed Bruno, has his moments. He's like a younger Peter Sarsgaard, who has mastered the art of playing smarmy. However, a word of caution, if you're expecting "Collateral" with a younger cast, you'll be disappointed.
Setting a film almost entirely within a Toyota Prius and making it interesting couldn't have been easy. And the script from director Ungar isn't on par with what writer/director Steven Knight did in 2013 with his sparse and impactful "Locke." Still, I can't fault Ungar, who has to be working with a tiny budget, and gives us a model of how to effectively use limited resources. This makes "Ride" an experiment instead of a thoroughly successful feature. If there is a freshness to Ungar's approach, it is that he doesn't choose to end things with a cliched violent shoot-out or some deadly fist fight. And the final sequence leaves the viewer on a potential cliffhanger, while in no way insinuating that a sequel is on the horizon.
"Ride" is a good audition for a first-time director destined to apply his efficient techniques on a bigger production.
Please follow and like us: