Appropriately PG-rated family fare, "Goosebumps 2" will put some good-natured fear into the littlest viewers, while mildly entertaining their parents.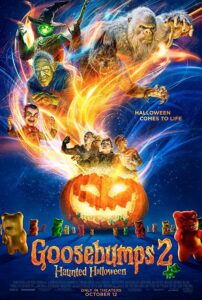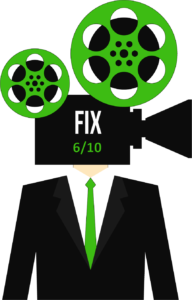 When Junk Bros., Sonny (Jeremy Ray Taylor from "It") and Sam (Caleel Harris), are hired to clean out an old house, they discover an unfinished R. L. Stine manuscript. And once that incomplete volume is opened, a creepy ventriloquist dummy named Slappy (voiced by Mick Wingert) appears. Slappy is one scary dude, a doll magically brought to life. His powers are great, although limited only to affecting the people in his presence. Now that he's been freed by the Junk Bros., he's determined to create his own scary family by bringing Halloween to life.
Slappy is a pretty effective character. An old prop dummy that can be used in the traditional ventriloquist manner, his powers enable him to walk around and communicate. His wicked voice alone informs anyone that his motivations are nefarious. But he manages to win over Sam and Sonny, and the three even sit down and play video games. At one point, it seems as though the odd creature could become a pal. But Slappy has his own agenda.
While Jack Black returns in this sequel to play writer Stine, the action is primarily focused on the kids, Sonny and Sam, and Sonny's older sister Sarah (Madison Iseman). And the set-up is fun. After hanging out with the boys, Slappy invades a small town. In one scene, he little doll visits a local Fred's store and literally brings the Halloween aisle to life. Supporting performances are playful with Wendi McLendon-Covey playing mom Kathy, and Ken Jeong appearing as a zany neighbor obsessed with the holiday.
But aside from Black's appearance in this sequel to the hit 2015 "Goosebumps," little distinguishes this light feature from a television movie. Admittedly, there is a market for this kind of material on the big screen. Just as Black proved last month with his entertaining turn in "The House with a Clock in Its Walls," it's possible to make a horror film without gore, profanity, and gratuitous sex. So, for it's young target audience, "Haunted Halloween" provides perfectly adequate family entertainment, giving parents a night out with their little ones.
On par with last month's PG-rated family horror entry also staring Black, this "Goosebumps" adventure is okay, but for chills, sophisticated viewers should probably wait until the "Halloween" sequel opens to get their horror fix.
Please follow and like us: