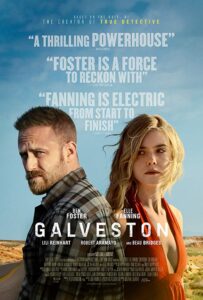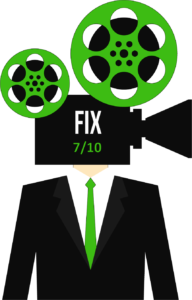 In "Galveston," the always committed Ben Foster boosts director Mélanie Laurent's adaptation of a Nic Pizzolatto novel. It's a grim and brutal picture.
After learning that he's very sick, presumably with lung cancer, Roy Cady (Foster) is understandably shaken. A low level criminal enforcer for a dangerous boss (played by Beau Bridges), Roy decides to ignore his doctor's advice and carry on with his unhealthy lifestyle. So, when he's sent on a nocturnal intimidation job by his employer, he approaches it with reckless abandon. And when the job goes bloody wrong, he finds himself in the possession of a 19-year-old prostitute named Raquel (Elle Fanning). At first, she throws herself at him, but he rejects the child's advances. While Roy is a merciless killer, he has a moral code of sorts.
Fearing that he's been double-crossed, Roy takes off from New Orleans to Galveston, and Raquel tags along. On the trip, they stop and pick up Raquel's 3-year-old sister. Roy's responsibilities continue to grow.
A moody drama with crime elements, debut screenwriter Jim Hammett adapts a novel by "True Detective" creator Nic Pizzolatto. This means that the material is unapologetically violent in places and the focus is on fridge dwellers wrapped up in criminal enterprises. But Hammett's script under Laurent's direction does not rely too heavily on the action and violence, instead building a credible relationship between the two leads.
Fanning is very good as the troubled teen on the edge. And her pairing with Foster is an unusual one, especially given the choice to have Foster's character take on a more fatherly role. Foster, whose wonderful work earlier this year in "Leave No Trace" cannot be forgotten, has the brutal unpredictability that the character requires. The health condition adds a fatalistic momentum to all of his actions. And this makes Fanning's portrayal of Raquel, who has basic street-wise survival instincts, seem almost wholesome even as her character decides to turn tricks to make ends meet.
The setting, a run-down Galveston motel, is reminiscent of a grimier version of "The Florida Project." Don't expect any bright and happy moments, however, this place is pretty dim and dangerous. Certainly, it's not a place for children, and despite Raquel's best efforts, she's terribly ill-ill-equipped for parenting. This casts a dour pall over the narrative, making "Galveston" a bit of a depressing affair.
Laurent's direction relies heavily on setting the mood with harsh visuals from cinematographer Arnaud Potier. And time is taken to let the images breathe. Laurent's languid approach gives the entire film a dreamy quality, which plays well when there is a time jump as the story draws to a close.
"Galveston" is a hard film about hard people that's well-acted, shot, and directed. It's not a nice story, but a true one nonetheless.
Please follow and like us: