Dense and, at times, confusing, J.K. Rowling and David Yates add extensive and darkly serious detail to the wizarding world with another Potter prequel.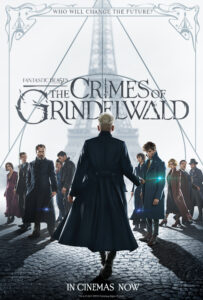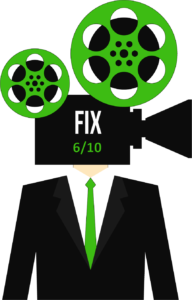 Taking place in 1927, and following the events of 2016's "Fantastic Beasts and Where to Find Them," "The Crimes of Grindelwald" starts with an exciting prison break by the title villain, played well by Johnny Depp. Acrobatically, whirling and twirling through the air abroad a dragon drawn carriage, Grindelwald viciously dispatches with his abductors employing a dangerous measure of magical skill. Once out of custody and on the prowl, the evil, scheming Grindelwald flees to Paris, where he sets up shop with his wizarding followers. Their goal is to assert dominance of the magically inclined over the Muggles (those without magical powers). His team are ruthless killers, who will stop at nothing.
Meanwhile, the Ministry of Magic seeks the assistance of magizoologist Newt Scamander (Eddie Redmayne) in hunting down and killing Credence Barebone (Ezra Miller) inevitably fighting Grindelwald in the process. The idea is that Credence poses a threat to the Ministry and the world, especially, if he is recruited by Grindelwald. And we know from the first film that Credence is an untrained wizard of great, raw power, capable of causing terrible things to happen.
The timid and introverted Scamander refuses to help the Ministry, who forbid him to leave England. But when Queenie (Alison Sudol) and her boyfriend Jacob (Dan Fogler) visit him from America, Scamander learns that Tina (Katherine Waterston) is in Paris searching for Credence and Grindelwald. Fearing for the safety of his beloved Tina, Scamander decides to make an illegal trip to Paris. And this is where things get even more complicated.
Without spoiling everything, it's enough to say that the context laid out above only scratches the surface. "The Crimes of Grindelwald" is a complicated and layered narrative in which terrific action sequences are slowed by longish stretches of exposition often featuring a flurry of names that quickly had my head spinning. In fact, this is one fantasy adventure that made me work hard, maybe a little too hard, to keep up with the story. And worse, the ultimate showdown was undercut by the questions I kept asking myself regarding who everyone is and how they were related to one another. In this dark, impenetrable tale, it seems, everyone has a sibling, or secret sibling, and no child is safe.
Fans of the Potter franchise will rejoice that the story does, in part, take us back to the Hogworts school. We are introduced to a younger Albus Dumbledore (Jude Law), who also tries to recruit Scamander. Law has fun with the role, imbuing Dumbledore with a cocky attitude that plays well and helps to lighten the mood. And Zoë Kravitz has a significant role as Leta Lestrange, who is engaged to marry Scamander's brother Theseus, who, by the way, is a hugger.
Regardless whether you're able to make complete sense sorting through the loads of story and backstory, the film is fun, especially, when Scamander interacts with various creatures. Returning are his mole-like Nifflers, that are put to good use. These elements of comedy and utter cuteness tend to carry the film, which has a rather dark and foreboding tone.
For all the complaining about Depp stepping into the role of villain Grindelwald, it's hard to criticize the results. Depp is fearsome, while still remaining charismatic. And his place in this series is secure as Grindelwald's objectives are reminiscent of a certain Lord, whose name I dare not say here.
Thematically, Rowling is clearly exploring familiar themes that she dealt with in the original Potter material. And in her creation of Scamander, she finds a nice, more mature hero with a heart of gold, not too dissimilar from Harry Potter himself. Dumbledore pegs Scamander perfectly when he sums up why he is the best wizard for the job: Scamander does not seek power, rather, he only asks what is the right thing to do. The humility of the character helps to endear him with the viewer, but his unique knowledge of and commitment to magical creatures protects him from evil.
Is this film better than the one that came before it? I'd say, no, it's not as good, but it is bigger and more action packed. With the overstuffed story, there is a cold and calculating process at work, as the film gets bogged down with structure and plot. This makes it adequate as a bridge film that helps expand the details of the universe. But in populating the narrative with so many characters and subplots, it becomes a little more work than your average family fantasy adventure. Instead of admiring the visuals while grappling with themes and moral lessons, I found myself confused, attempting to construct a mental checklist with which to refer in order to understand character motivations.
"The Crimes of Grindelwald" keeps the Rowling magic flowing by establishing key set pieces. But in order to progress forward, the next installment will have to bring back some of the pathos that marked the best of the Potter franchise entries. The action is there, the characters introduced, now it's time to make us care about them.
Please follow and like us: