Felicity Jones stars as RBG before she became a famous jurist.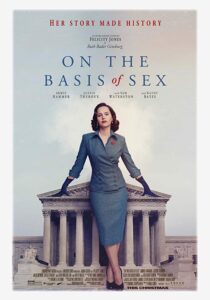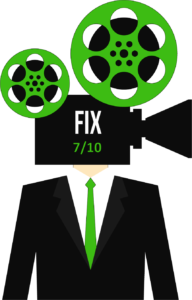 Given Ruth Bader Ginsburg's latest health scare, all eyes have been on the 85 year old Supreme Court Associate Justice, as she remarkably survives yet another bought with cancer. These days, it's easy to deify and even easier to demonize, but it's really hard to say bad things about the ageless, trailblazing lawyer. We learned by watching the wonderful Ginsburg documentary "RBG," released earlier this year, that her career before taking the bench was magical. And "On the Basis of Sex" is another glimpse into her backstory, a peek into what shaped her.
Focusing on Ginsburg from her law school days through her first case before the Supreme Court, we meet Ruth (Felicity Jones) after she has married long-time husband Martin (Armie Hammer). Both are students at Harvard, where Martin is a year ahead of her. The great Ivy League institution is flirting with women students, and the school's administrative leader, Erwin Griswold (Sam Waterston), thinks it's a kind of jokey experiment. Griswold is committed to the old ways, and he's quick to embarrass a female student with a cutting comment. Ruth's responses are just as quick witted, but she's smart enough not to take on the system immediately. She's got a lot to learn, and that learning won't finish at Harvard.
During Martin's first round with cancer, Ruth attends both her classes and his, assisting him in keeping up with his studies. Theirs is an enduring marriage, loving and supportive, and Martin doesn't forget. While Martin practices law, Ruth completes her studies at Columbia, but has a hard time finding a firm that will employ her. She was both on the Harvard Law Review and the Columbia one, her academic achievement cannot be questioned, but no one will hire her. These experiences had a lasting effect on her goals as an attorney.
Oscar nominee Jones (see "The Theory of Everything") is fine in the lead. Her accent seems right, but it is hard to divorce her typical English inflections that I seemed to detect at times. Hammer delivers up typically solid support, carefully not overshadowing his co-star. I think that Hammer, with his height and leading man good looks, has become one of the most unselfish supporting actors working. His role in this year's "Sorry to Bother You" was really a standout. Here his pairing with Jones works despite their lack of chemistry. There's a really awkward moment early in the film when the two share a romantic, bedroom scene. They are much better together when they talk about the law and debate legal strategy.
Other supporting performances of note include a mop-headed Justin Theroux, playing the head of the legal department of the ACLU, and Kathy Bates as feisty lawyer Dorothy Kenyon. It is Kenyon's story that should be followed up on. Without Kenyon and her tireless work championing women's equality, one wonders if we would have had an RBG.
"On the Basis of Sex" is a no frills biopic, it's sympathetic to its subject, while also hinting at the effect of obsession. And the tunnel vision had to have had an impact on her family life. Ruth and her daughter, Jane (Cailee Spaeny), struggle to understand one another, ironically because they are so very similar. Jane followed in her mother and father's footsteps, becoming an attorney as well. I'd wished more time was spent on this aspect of the story. Note that the daughter in this film is less one-note than the screechy twosome daughters in "Vice."
Unlike other more ambitious and less successful biopics, the focus here is narrow, pinpointing the first big case that helped take Ruth from the classroom to the courtroom. And director Mimi Leder, working from a script by Daniel Stiepleman, smartly doesn't try to tell RBG's entire life's story. After all, that life is very much on-going, and there's more story to be written.