Sincere and well-acted, "Giant Little Ones" travels down the rough road of modern intolerance.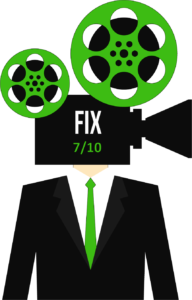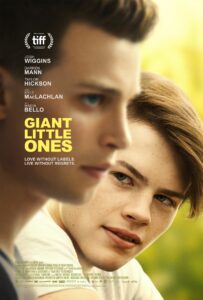 After swim team practice, a group of high school boys clown around in the locker room. One boy accuses another of being a homosexual. A slur is uttered, and the two athletic young men square up, preparing to fight. Another boy, Ballas (Darren Mann), steps between them and things cool down.


Teammates, Franky (Josh Wiggins) and Ballas, have been best friends since they were little guys. Although Franky was not the boy accused of being gay, he's affected by the conflict. Franky's proud of Ballas' quick thinking. The two boys share everything with one another. And after sneaking out of his house with his girlfriend, Ballas brags to Frankly about his sexual conquest, claiming to have "done it six times" in one day. Sex and male bravado is floating all around them, but Franky is a virgin, and he's uncomfortable when talking about "going all the way."


The fact that the boy in the locker room doesn't deny that he is homosexual is eye-opening. In today's modern climate, maybe this isn't surprising, but regardless of how far we've progressed, old prejudices die hard. "Giant Little Ones" reminds us that hate, built out of fear, lingers long.

Writer/director Keith Behrman tackles his subject by placing it in the familiar teen coming-of-age narrative. Comparisons with "Love, Simon" are apt, but "Giant Little Ones" is more focused and less playful. But to set the stage, early on, Frankly and Ballas participate in the typical teenage rituals. We get excessive drinking and partying that normally accompany the genre. But, perhaps taking a page from the Gregg Araki playbook (see "Mysterious Skin" and "Kaboom"), issues of gender fluidity and sexual preference are introduced without compromise. And onto this landscape, Behrman explores the prejudices and reactionary violence that is still prevalent today.


It's the early scenes that gave me pause. Was this just going to be another teen out-of-control story? Thankfully, the film's concluding act focuses on the family dynamic and introduces Franky's father Ray (Kyle MacLachlan). Ray and Franky became estranged when Ray divorced his mother, Carly (Maria Bello), and then moved in with a man. In one excellent scene, Ray bonds with his son, by providing some heartfelt advice. It hits hard, and attests to the power of the performances, namely MacLachlan, who seems utterly sincere.

An intimate and finely crafted film, "Giant Little Ones" genuinely examines the persisting legacy of prejudice.
Please follow and like us: