In the mold of the screwball comedy (think a much more raunchy version of 1938's "Bringing Up Baby"), "Long Shot" is a wacky, romantic romp.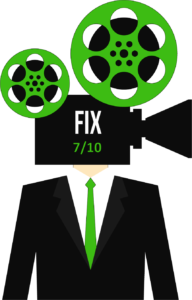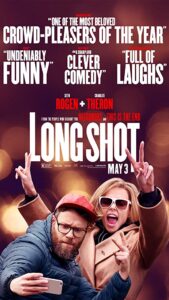 When Secretary of State Charlotte Field (Charlize Theron) decides to run for president, she hires edgy journalist Fred Flarsky (Seth Rogen) as a speech writer. The idealistic Charlotte used to babysit Fred when they were kids, and of course, he had a huge crush on her. And once the two of them begin to work together as adults, sparks fly. But can their "she's hot/he's not" romance withstand the pressures of a national political campaign?

While it's hard to buy the political machinations at work in this movie, the sweet, comedic scenes prove to be awfully charming. And Theron and Rogen have real chemistry, as the power roles are effectively switched. In one raunchy scene, Charlotte takes control in the bedroom, and Fred's reaction is classic. Be prepared for some disarming adult humor, that somehow rudely evokes tender emotion.


There's no question that director Jonathan Levine ("Warm Bodies") and his writers Dan Sterling and Liz Hannah are going for a throwback Howard Hawks type vibe, with the uptight Theron taking a role that would have been played by Cary Grant over 80 years ago (yes, it's been that long). And Rogen is in Katherine Hepburn mode, playing an adorable slub, who breaks all the rules, but somehow comes out fine.

Rogen's physical comedy works here, even when he's ridiculously depicted crashing head first out of a two-story window or falling down stairs. His pratfalls, which are part of his character's bumbling personality, are something of a cartoon, but prove to be good-natured fun. The script walks the narrow line between outright parody and romantic comedy. There are times when the parody takes over, but the cast, including Bob Odenkirk as the president, bring the chuckles. And building on his quirky work in the underrated "The Hummingbird Project," Alexander Skarsgård is funny as the single Canadian president, who has the hots for Charlotte.


Like so many classic rom-coms, the narrative doesn't have to be logical, but the characters have to have humorous romantic chemistry. And what is surprising about "Long Shot" is that the Theron/Rogen matching, without the cartoonish nonsense, is genuine and not some grotesque contrivance. Viewers should completely buy them as a couple, warming the collective hearts of lonely, lovable schlubs and isolated, sharp career women everywhere.


Please follow and like us: