Judi Dench raises the profile of this handsomely made, low-key spy thriller.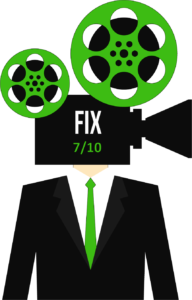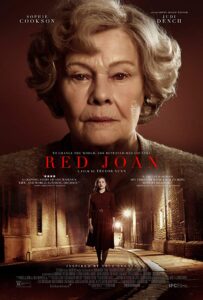 "Red Joan" is based on a true story of Melita Stedman Norwood, a British citizen, who was revealed decades later to be a spy for the Soviet Union. In the film, Norwood's name is not used, rather, the spy is named Joan Stanley (Judi Dench). So, even though the story has real-world origins, names have been changed and changes to events likely altered to achieve dramatic effect. I'm not familiar with the underlying facts, but I liked the sophisticated story of a spy torn between love of country, love for two men, and a deep conviction.


When Joan is arrested in 2000 by the British government, her work as a Soviet spy in the mid 1930s comes to light. A widow living a seemingly clean and uneventful life as a librarian is dramatically upended. She kept the truth from everyone in her life, except her deceased husband. This comes as a traumatic shock to her lawyer son, Nick (Ben Miles), who asks his mother something to the effect of, "is anything you've ever told me true?" It's a lump in the throat moment. Joan's decisions as a young idealist have now had a wrecking effect on those she loves most.

Through a series of flashbacks, we meet Joan when she is in college. Young Joan is played by "Kingsman's" Sophie Cookson. When Joan meets a young socialist named Leo (Tom Hughes), she's swept up by his political passion and his romantic charisma. The two become an item, but he leaves for a teaching or lecturing tour in Russia, which puts a strain on their relationship. Because Joan is intelligent, she becomes involved with a project during WWII to develop the nuclear bomb. This is where the spying begins.

One thing that is controversial about "Red Joan" is that the film shows her ideology without specifically condemning it. Joan, even decades later, believes that giving the Soviets nuclear information was justified. And the film rationalizes this decision when Joan is shown recoiling in horror at a newsreel of the Hiroshima and Nagasaki devastation. Ironically, the position appears to be that more nukes is a good thing, because it has a deterrent effect. The concept of mutually assured destruction is lurking in the background.

I suspect that viewers on both sides of the political spectrum will be made uneasy by the film's perspective. Maybe this is an interpretation, but it appears to me to be overt. We learn in a final title sequence that the real Norwood was not prosecuted, despite obvious criminal wrongdoing. It's fair to criticize "Red Joan" for making her sympathetic. However, the, perhaps, perceived point of view is just part of the story-telling technique—it's Joan's story, after all.


Of course, Dench's performance is excellent, although some viewers expecting a full-on Dench vehicle will be disappointed. She shares screen time with Cookson, as much of the action is set in the past. Still, you get plenty of emotional scenes as Dench conveys Joan's internal conflict.

"Red Joan" is a modest production elevated by committed performances, namely by Dench, and a fascinating true story connection.
Please follow and like us: